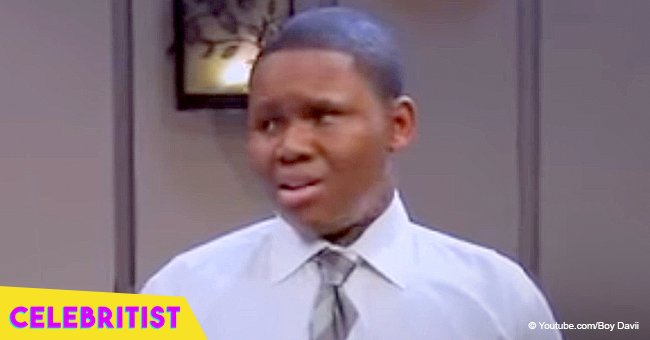 Remember Malik from 'House of Payne'? He is all grown-up now and looks like his mother
Larramie Cortez "Doc" Shaw, better known for his childhood role in Tyler Perry's "House of Payne," is all grown up now. The handsome actor owes his mom the support to start a career in Hollywood, and he's always praising her on his Instagram account.
Shaw, now 26, started his career in the entertainment industry by appearing on print ads and television commercials for different brands. His big break in the small screen came in 2006 when he earned the role of Malik Payne in the acclaimed series "House of Payne," created by the iconic Tyler Perry.
He started the series at 14, and by the end of the show, he was a handsome 19-years-old man. Shaw then went on to make appearances in series like "The King of Queens" and Disney's "The Suite Life on Deck," where he had a main role for two seasons. His work with Disney didn't stop there.
In 2010, he took the role of King Boomer, one of the lead characters of "Pair of Kings," alongside Mitchell Muso. The series ran for three years, and afterward, he kept on taking small roles on TV, film, and even appears as a co-executive producer of the series "Spies in Training."
Doc is currently reprising his role as Malik Payne in the series "Tyler Perry's The Paynes," a sequel to the show that put him in the spotlight.
The young man, who looks just like his mother, can't stop sharing beautiful photos and messages for the woman who gave him life. His Instagram is a mix of beautiful shots of friends, co-workers, landscapes and his mother.
He likes to share every special occasion with her, and for Valentine's Day, he penned a special message on Instagram that paired with a photo from his childhood, melted his fans' hearts, saying:
"Love isn't a feeling it's the ultimate sensation. Feelings are interpretations of experiences and a sensation so vital as love shouldn't be summed up to simply a feeling." I share my valentines with the most vital part of my being someone who's love is unending and never changes. Happy Valentines to you and the special people you love dearly."
In another shot of his mom wearing glasses, a grey t-shirt and staring at the horizon, he wrote:
"I realized when you look at your mother, you are looking at the purest love you will ever know."
Shaw, unlike many child stars, is leading a healthy life, and speaking to NewsOneNow about the importance of creating awareness about childhood obesity, he revealed that he took the decision to lose weight thanks to his family history with diabetes.
He encouraged parents to push his kids to work out, saying:
"As much time as kids play on video games and Xbox and PlayStation, they have Kinect games and other outlets on how you can go about losing weight."
And added:
"You really don't need the motivation of someone else. Although it helps, but at the same time you have to find it in yourself to want to work out."
Doc hopes to influence young people through his work, and as long as he has his mother's support we're sure he'll make an amazing job of it.
Please fill in your e-mail so we can share with you our top stories!