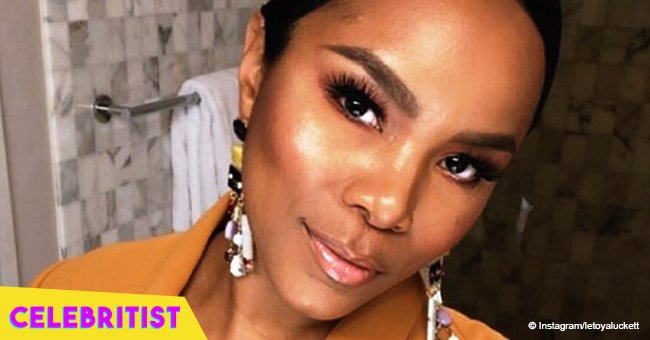 LeToya Luckett sparks pregnancy rumors after sharing new family photo with hidden belly
Former Destiny's Child member, LeToya Luckett, is sparking pregnancy rumors after many of her fans claim to see a "different glow" on the singer and actress' face. She married last year and is now the step-mother of a cute girl named Madison.
The 37-year-old beauty recently attended TV One's "Down For Whatever" premiere at the American Black Film Festival in Miami Beach in the company of her husband, Tommicus Walker and his daughter from a previous relationship, Madison.
In the gorgeous family portrait, LeToya looks stunning wearing a white pantsuit with a black t-shirt underneath, and her braided hair brushed to the side. Tommicus and Madison also went for an all-white outfit, as the three of them smiled brightly to the camera.
While the photo and the pose, with Madison blocking LeToya's tummy from view, seems to be a normal and comfortable one for the trio, many fans have been speculating about the singer trying to hide a baby bump from the cameras.
Some of her most loyal followers are also claiming she looks different, implying she could be pregnant with her first child. Read some of the comment below:
"queendreen13: You're pregnant I can feel it lol."
"mikkiis50: You have that pregnancy glow @letoyaluckett."
"bri_greatest_ever: You're glowing @letoyaluckett I hope it's a bump."
"nirvana_deep: Letoya is pregnant, mark my words. She is going to announce her it before 2019."
While she's yet to address the rumors, LeToya has been focusing her attention on her new family, as she recently confessed how scary it was to step into this new chapter on her life, not only as someone's wife but also as a mom.
She wrote a lengthy post on Instagram confessing her fears and how she dealt with them, saying:
"As I recently walked into this new chapter of my life as a Wife & a mother-in-Love of a beautiful little girl- the worry began to knock at my front door. Am I built for this? I've never been a mommy. My cooking skills are so, so. My fresh smoothie game is aaiiiight. So I gotta share...everything? Will he still love me if? These are all the thoughts that started to flood my mind."
LeToya reflected on her life and reached the conclusion that fear would not lead her anywhere, so she decided to stop worrying and, through her faith and prayers, fight and work for her family and beautiful life.
"Today I choose to STOP THE WORRY & put on my new crown as a WARRIOR!! A prayer WARRIOR for my family! A WARRIOR FOR GOD! I can literally feel a new strength come over me as I write this! My mom always said, "worry is sin" now I get it. God forgive me. Lead me! I bind up worry & fear & I will TRUST YOU with my whole heart. -Mrs. Walker."
Even if LeToya is not pregnant and fans are just seeing things, we're glad she's enjoying her new family and looking happier than ever.
Please fill in your e-mail so we can share with you our top stories!