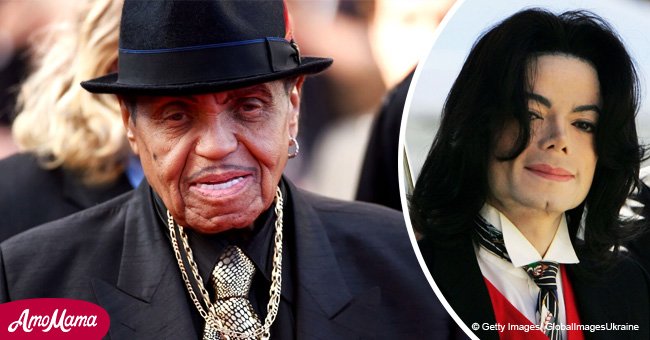 Daily Mail: Michael Jackson's father is on his deathbed and 'doesn't have long'
Joe Jackson, is reportedly living his final moments due to a terminal illness that has him bedridden, and a controversy has surfaced regarding his relatives being denied access to his deathbed.
Daily Mail claimed on June 20 that one of the 89-year-old former talent manager's sons, Jermaine Jackson, talked exclusively to them to reveal the situation the family is going through.
According to the news outlet, even when it could be the last time he sees them, Joe has been at the center of a conflict as he has allegedly forbidden any of his relatives to visit him.
The octogenarian's health has been deteriorating over the years, and there are reports that he has suffered from a form of dementia in recent years, and has had several strokes too.
But if this wasn't difficult enough for the family, they have encountered an unexpected complication since Joe's caretakers said to have received orders from him to not let anybody come into his room to see him.
Although Joe has been estranged from his wife and children for a long time, they still would like to know about his health and to say his final goodbyes if that were the case, but they had to fight for it.
According to the source, the family members who didn't accept the negative of Joe's caretakers had to spend four days negotiating with them and Joe's manager Charles Coupet to gain access to him.
Apparently, after the tense discussions and pleas, his wife Katherine, daughters Rebbie and Joh'Vonnie, and granddaughter Yashi Brown were finally authorized to see him on June 19.
Even though those taking care about Joe assure that is his explicit desire not letting his relatives approach him, 63-year-old Jermaine suspects that there is something else going on.
'He's very very frail, he doesn't have long. The family needs to be by his bedside - that's our only intention in his final days, said Jermaine, one of the members of the legendary band The Jackson's 5.
'It's what any family would want, but some people around him think they know better...and they don't,' he added.
The day after Dailymail.com shared the news about Joe, his son Jermaine confirmed he had talked to the news outlet but he wasn't happy about the coverage that followed his conversation with them, and he took to Twitter to make a statement.
'My father's health is not good, but "dying" is a harsh word chosen by headline writers, not me. For however long he has left, my mother, siblings, and relatives want to be with him, without hindrance,' he wrote.
Joe has been criticized widely for his children's testimonies about his abusive and controlling behavior towards them as he brought them up and trained them to become famous musicians.
His most famous son, late 'King of Pop' Michael Jackson, was very open about his father's personality, but some of his siblings have confirmed some of what he had said. Read more on our Twitter account @amomama_usa
Please fill in your e-mail so we can share with you our top stories!