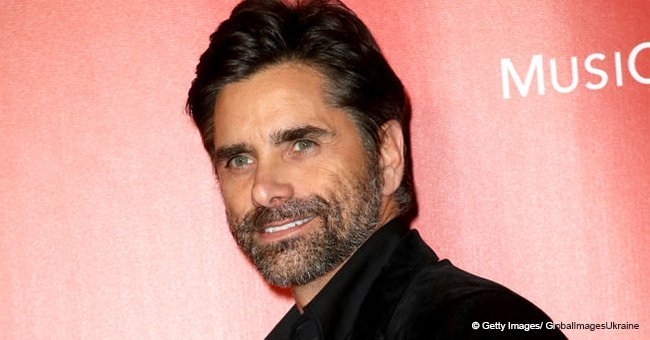 'Full House' star John Stamos reveals baby son's face for the first time
The actor may have become a television father many years ago, but he's only just become one in real life, and decided to celebrate his first Father's Day with a special photo.
John Stamos made a name for himself as the eccentric uncle Jesse Katsopolis on Full House in the 1990's. But despite the 54-year-old's role on the show, he never had any children. That is, until now.
In April 2018, Stamos' wife, Caitlin McHugh gave birth to a son who the couple named William "Billy" Christopher.
Since then, the actor has shared only glimpses of his sweet little boy.
On Father's Day, Stamos decided to give fans their first look at Billy's tiny face, by sharing a post to Instagram
"My first Father's Day means that I don't have to hand a kid back to the parents when someone yells cut. It means when people ask me if I'm a father, I don't have to use the goofy line, 'No, but I play one on TV,'" he wrote.
He continued, adding that for the rest of his life, he will be known as someone's dad, and shared that that was all he had ever wanted.
The sweet photo shows Stamos holding his little boy up against his chest, with the baby looking slightly perplexed at the camera pointed at him. The actor has such an incredible look of love and adoration in his eyes.
Within just a week, Stamos' post had over 450,000 likes, with plenty of fans commenting on how cute the father-son duo looked together.
"Congratulations! He's absolutely adorable and you deserve all the happiness in the world. You have waited along time for this and finally he's here. You are going to be the best dad ever. Lots of love and luck John!" wrote Barbara Apolito.
Denise Galati added: "Congratulations, John! Being a parent is a blessing and THE most rewarding experience in one's life. Enjoy this new journey!"
Previously, Stamos has kept his son's face out of the camera. The actor has always prefered to keep his private life private, and certainly extended this to keeping his son away from the limelight.
For many celebrities, it is a way to protect their children, and try to give them the most normal lives possible.
Please fill in your e-mail so we can share with you our top stories!