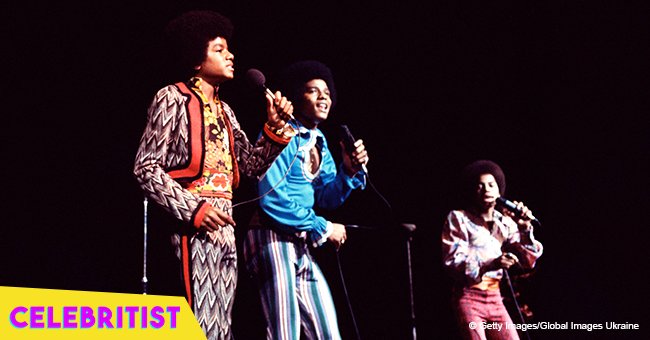 Jackie Jackson shares vintage pic with brothers Marlon & Michael in swimsuits flaunting their abs
Jackie Jackson waxed nostalgic earlier this month when he posted a throwback photo from the 70's showcasing his bare chest along with his two other brothers.
Friday will never be the same for Jackie Jackson's followers who were greeted with a vintage photo of him and his brothers Marlon and Michael in their finest. The rare snap would have jolted anyone as it showcased some serious abs hailing from the 70's. The trio who were lounging by the pool "circa 1976", as described by Jackie in his caption, were eye candy enough with their bare chests exposed. But what was more notable were their tiny colorful swimwear and big afro hairstyles. Even Jackie couldn't help but joke about it in his caption.
"How about those swimsuits and our fros!"
The three siblings were part of the famed singing group Jackson 5 established in 1964. Along with their two other brothers Tito and Jermaine, they rose to stardom with their debut single 'I Want You Back' in 1969.
Managed by their father Joe Jackson who sired 11 children in total with his wife Katherine, the group went on to achieve greater success with a total of 16 top forty singles on the Hot 100 and selling over 75 million records worldwide. In 1997, the group was inducted in the Rock and Roll Hall of Fame and in 1999, the Vocal Group Hall of Fame.
Jackie's throwback post comes in the heels of the launch of his new record label, 'Critically Amused.' Back in May, he met up with Billboard to shed more light about his latest venture and his first two artists signed under him, Gold Lemonade and D.B.L.
With a recording studio in his home for almost six years, Jackie revealed it was always his dream to own a record label. When he discovered Gold Lemonade and D.B.L. and realized their potential, he decided to pursue that dream. As for the name 'Critically Amused', Jackie credits his wife for it.
"My wife Emily came up with the name Critically Amused and I thought it was a great name because I was amused by these artists. I'm amused by their talent."
Having been part of Motown, one of the most successful record labels in history when he was still with the Jackson 5, the 61-year-old admitted he learned many things he could apply to his business today.
"I learned so much from Motown. It was like going to college. We were like a family, the whole Motown label. Berry Gordy and all of his artists, from Smokey Robinson to Diana Ross, and the Four Tops, the Supremes, and the Temptations, and all of his songwriters, everyone was willing to help us. We learned so much about lyrical content and how to write, produce and mix songs. And we learned about the running of a label, all the administrative work."
And while he hopes to sign more artists in the future, Jackie plans to focus on his two current artists first.
"I'm looking for both of them to pop, to be successful. It's like when Lil Wayne signed Drake and he had Nicki Minaj. Both of them superstars. They're huge, and hopefully, we can get like that."
Jackie is excited and optimistic about his latest venture. Though he's touring with his brothers this year and next, he's also focused on producing one single at a time under his new record label. He's hoping the singles would turn out to be a success that would eventually spiral into the production of full-blown albums.
Please fill in your e-mail so we can share with you our top stories!