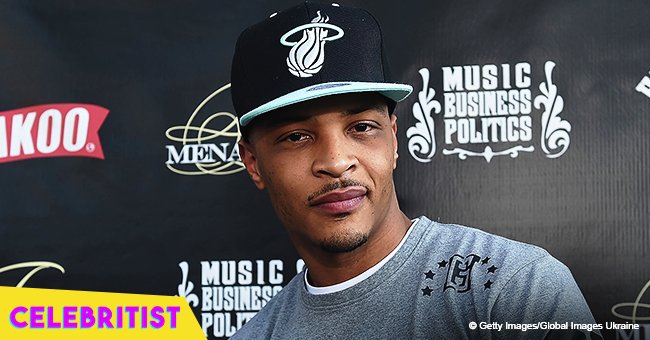 T.I. steals hearts in recent picture with his sons amid cheating scandal
As his feud with his wife Tiny Harris heats up on social media, T.I. shows up at the BET Awards with their two sons, confirming suspicions of serious trouble in their on-and-off marriage.
Amid the recent drama involving his estranged wife Tiny Harris and another woman yet again, T.I. opted to walk the red carpet with his two sons at the BET Awards. Looking dapper in a gray suit and sunglasses, the 37-year-old rapper showed no signs of turmoil in his personal life as he stood next to his dashing sons.
It's not surprising that T.I. would be attending the annual awards without Tiny whose recent posts have been alluding to trouble in their on-and-off marriage. The couple had been allegedly working on a reconciliation when a video of T.I. slapping another woman's behind surfaced shortly before Father's Day.
Seemingly disappointed by the incident, Tiny posted a series of messages taking a swipe at her husband. She shared a video of Snoop Dogg, whose 20-year marriage is a testament to long-standing unions that work. In the video, the rapper discussed how strong women like his wife helped him stay sane and successful. Tiny commended Snoop in her caption saying,
"Crown the KING who knows that his QUEEN is the most important piece on the board. #chessnotcheckers #CHECKMATE"
Tiny's post was a response to T.I.'s earlier message where he quoted Helen Smith, author of 'Men on Strike.'
"Men aren't wimping out by staying unmarried or being commitment-phobes. They are being smart." The writer also goes on to say, "Unlike women, men lose all power after they say, 'I do.' Their masculinity dies, too."
To explain his post, T.I. wrote.
"Note to women: Happiness needs no validation…. The Ego does. Most women out there nowadays just wanna be married to impress they friends, family (his side pieces) and fit into society's standards. THAT'S NOT LOVE!!!"
Though there were no names mentioned in either of their posts, it was easy to see T.I. and Tiny were alluding to each other. The scorned woman also intentionally omitted T.I. when she posted a Father's Day greeting for her dad.
Meanwhile, in the morning of the BET Awards, Tiny seemed to confirm she wasn't going to be standing by T.I.'s side at the event when she shared this "Good morning" message to her followers.
"Sleep on me. I'll still be dope when you wake up."
With the latest drama unfolding, Tiny is reportedly seriously processing divorce papers this time. She filed for one in December 2016, but it was put on hold after her relationship with T.I. seemed to have turned for the better. But now that their problems have escalated once again, it may be time their marriage is finally dissolved for good.
Please fill in your e-mail so we can share with you our top stories!