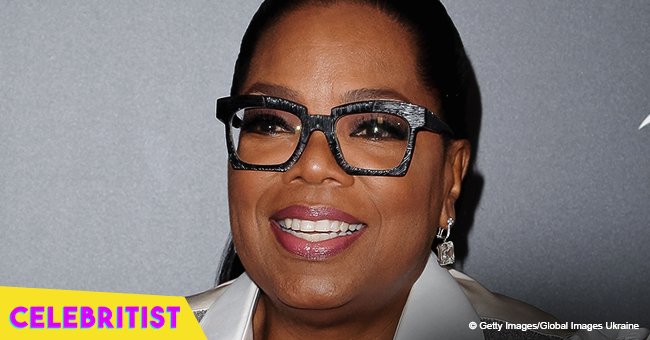 Oprah's 'daughter-girl' turns heads in plunging white layered dress at BET Awards
Oprah's daughter who recently earned her Master's degree showcases her stylish nature in a lovely white low-cut dress attending the BET Awards. She's one of Oprah's amazing stories having hailed from South Africa and benefitting from the entertainment mogul's scholarship program more 10 years ago.
Thando Dlomo, one of Oprah Winfrey's scholars, showcased her stylish persona attending the BET Awards last weekend. Now with a Master's degree in Journalism, she certainly made quite an impression in a low-cut white dress.
The petite stunner with pixie hair flaunted her cleavage in a ruffled white frock with a deep V neckline. She complemented her white outfit with a thick pink and purple necklace while adding height in a pair of strappy heels. The new graduate was glowing as she declared herself ready to attend the BET Awards in her caption accompanying a photo she posted.
"And we're off! #BETAwards2018"
Oprah Winfrey's commitment to providing education to young girls in Africa has paved the way for many of her scholars to pursue their dreams. One of them is Thando, who was part of the first batch of graduates benefitting from the talk show host's education program, Oprah Winfrey Leadership Academy for Girls (OWLAG) in South Africa.
Thando graduated from Johnson Smith University in North Carolina in 2016 and was in tears when Oprah herself showed up to see her accept her college diploma.
"I'm excited to graduate today. It's a fabulous experience. To have Mom Oprah here to be here with us and support us is beyond us, really."
Oprah has often referred to her girls as her daughters, and as one of the pioneer graduates hailing from the entertainment mogul's program, Thando was grateful to be part of the chosen ones.
"This is a huge success for young Zulu girls who grew up in townships raised by grandmothers, single mothers. I'm an AIDS orphan, and it's just a tremendous achievement to stand before you all today.
"Mom Oprah was very specific in the sort of women she wanted to raise. She called it the "it girl," but now we understand that it really stands for grit and tenacity, a girl of strength who can stand in her truth and be validated in the world."
Established in 2007 as an all-girl boarding school for grades 8-12 in Johannesburg, OWLAG began with 72 girls in its first batch. Each of the girls had likewise been guaranteed a full college scholarship which Thando successfully availed. But Thando didn't end there. In May, she earned her Master's Degree in Journalism from USC Annenberg and is now working her way towards a career in the field. With Oprah by her side, it won't come as a surprise if Thando flourishes and makes a name for herself someday, much like her awesome "mom."
Please fill in your e-mail so we can share with you our top stories!