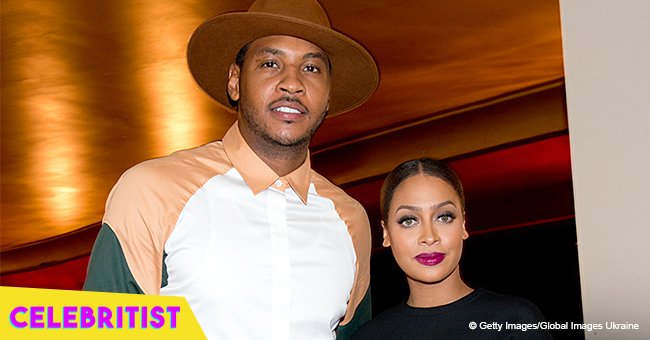 La La Anthony visits family of murdered NYC teen on her birthday
La La Anthony and her husband, NBA professional Carmelo Anthony, spent a couple of hours in the Bronx giving their condolences to the family of a murdered boy.
The TV personality used her Instagram account to share a photo showing her and her husband next to the mother of Lesandro 'Junior' Guzman-Feliz, who was dragged out of a Bronx deli and viciously stabbed to death by a gang on June 20.
In the photo, Lesandro's mother, Leandra Feliz, was next to a big painting that had the face of her son. She was holding two New York Knicks jerseys – the team Carmelo played for – and, in front of the painting, there was a pair of sneakers.
According to TMZ, all those items were signed by the NBA star. Apart from that, the celebrity couple urged others to donate to the family.
It is important to mention that it all took place on La La's birthday, who confessed in the caption that connecting with Lesandro's family was exactly what she wanted to do for her birthday.
La La revealed that the victim's sister contacted her and told her that Lesandro loved Carmelo, so she asked him to come with her. She finished by saying that they did more than just giving them jerseys and shoes, but she didn't specify what they did.
Another image showed La La in front of the improvised altar the family created. It was filled with balloons, flowers, and candles, and it had the photo of Lesandro in the middle of a big paper glued to the wall.
The Share Room Instagram account shared a short video that portrayed La La hugging someone who, according to the person recording was Lesandro's sister. Carmelo was right next to them.
La La and Carmelo's driver allegedly told NY Post that paying their honor to Lesandro's family was the only thing they would be doing that day, so the celebrities wanted to keep it a secret.
That's precisely what they did as there were no media outlets or paparazzi at the scene.
Please fill in your e-mail so we can share with you our top stories!