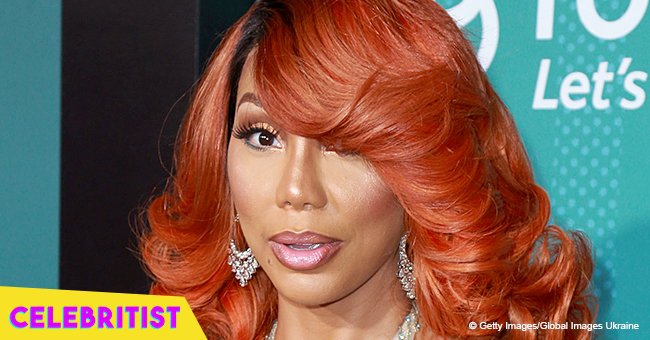 Tamar Braxton gets criticized after sharing video of son listening to his mom's song in the car
After posting a video of her young son to social media, plenty of her followers commented on this one thing they realized he wasn't wearing.
Tamar Braxton has had a tough time of it lately, as she and her estranged husband Vincent Herbert have filed for divorce. But despite her personal troubles, she is still taking care of her son and sharing plenty of happy memories with him.
Braxton recently took to Instagram to share a sweet video of 5-year-old Logan dancing along in the backseat of her car as one of her own songs plays on the radio.
But while the adorable little boy looked perfectly content listening to his mother's smooth tones, Braxton's fans quickly noticed that the child wasn't wearing a safety belt in the clip.
"Oh my God. I could only focus on the fact that he didn't have on a seatbelt," Che wrote, while Sandra M. added: "NICE , BUT TAMAR PLEASE PUT THE SEAT BELT ON , THATS ALL I WAS THINKING ABOUT. SAFETY FIRST!!!"
Former law enforcement officer Tamika Faye Moore elaborated, pointing out what could happen to the little boy should their car be involved in a collision of any kind.
"That is very tacky and irresponsible of you. Even if you don't wear yours, you shouldn't teach him your bad habits. As a retired Military Police officer, I lived by enforcing 'Click it or Ticket'. Love is expressed is many forms, and making sure your only child is strapped in is definitely a priority! So disappointed, ~ a past fan of yours from Memphis, TN," she wrote.
There were also plenty who either didn't notice the lack of safety belt or were unconcerned by it, and they all felt that Logan closely resembles his father, and even that he dances like Herbert does.
The latest criticism of the star comes just a week after another Instagram post featuring Logan prompted people to comment on his weight, and plead with the singer to teach him healthy eating habits.
The post, which Braxton shared in honor of Father's Day, featured both Herbert and her own father.
But rather than seeing the good in her post, some fans came forward to criticize the fact that her son seems to be putting on weight.
"No offense but Logan is getting real big before you know it he will be honey boo boo (Alana) size or like his father just saying," wrote NessaPoo.
Please fill in your e-mail so we can share with you our top stories!