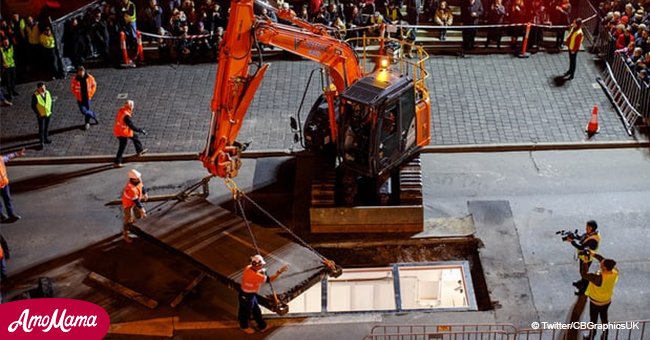 73-year-old man buries himself alive under bitumen road for 3 days
Mike Parr is an Australian born artist who is known for the shock-factor of his work. On June 14, he was buried underneath a street as part of Tasmania's annual Dark Mofo music and arts festival.
His third Dark Mofo installation memorializes Indigenous victims of British colonial violence. The artist stayed in his underground chamber for three days.
Two weeks ago on Thursday night, a crowd gathered in Hobart, Tasmania in Australia to watch Mike Parr, 73, being buried alive. He was lowered into a steel chamber in the ground on Macquarie Street.
In his possession, he only had sketching materials, a book, a bucket, and a meditation stool. The road was then sealed up, and traffic continued above his head.
For more on this story go to our Twitter account @amomama_usa. This was Parr's performance for his latest work titled Underneath the Bitumen.
The work is part of Tasmania's annual Dark Mofo music and arts festival. Parr remained underground for 72 hours with no food, only water until the chamber was dug up again on Sunday night.
In 1828, after martial law was declared against Aboriginal Tasmanians, the violence escalated as Aboriginal people were driven from their territory. Up to 900 Aboriginal people and 200 colonists were estimated to have died in the conflict.
"By about 10 o'clock on Saturday night it was deafening in the box, and when the semis went over the top everything was rattling."
Mike Parr, ABC.net, June 19, 2018
In a statement, Dark Mofo Creative Director Leigh Carmichael said, "It is a story that is not well known, but is ever-present, just beneath the surface of our contemporary culture."
Carmichael added that it was no coincidence that Parr's work would happen underground, just out of sight, as everyday life continued above. The street where he was buried is one of the busiest streets in Hobart.
The road was returned to its normal use after the burial. Hobart Mayor Ron Christie voted against allowing the performance.
Christie felt that the installation would interfere but he was overruled by a majority vote in favor by the council. Michael Mansell, the spokesperson for the Tasmanian Aboriginal Centre (TAC), said he supported the artist's efforts to bring attention to the injustices subjected to Australia's Indigenous population.
"He took this extreme action to honor the victims of genocide in the 19th century," Mansell said. Some people criticized Parr's performance as overly extreme and a waste of money.
Two days after resurfacing, Parr shared his experience with an audience at the University of Tasmania's Art School. "It was increasingly noisy because the road was subsiding and I could see the light of vehicles," he said.
He shared that he observed people "playing chicken" in the early hours. They would run over to the second lane of Macquarie Street in order to "jump up and down" on the area above his box.
The artist also experienced ferals in the early hours of the morning. He revealed that they would run out between the lights and jump up and down as hard as they could on the top of the box.
Parr added that in a hundred years his work would be a revelation. He explained that people will think 'this is how they lived in the second half of the 21st century. Look at their bewilderment, their alienation.'
The artist has had performances in the past where he sewed his lips together, hacked off his meat-filled prosthetic arm, held his finger in a flame, pushed tacks into his leg, and regurgitated milk.
In the performance where he cut his arm, he started off talking to the audience in a conversational manner. Then suddenly he grabbed an ax and began to hack into his prosthetic arm.
The arm had been filled with minced meat and fake blood but most of the people in the audience were not aware that he had a prosthetic arm. In his performance A Stitch in Time, Parr recorded himself having his lips and face stitched together with threads.
Please fill in your e-mail so we can share with you our top stories!