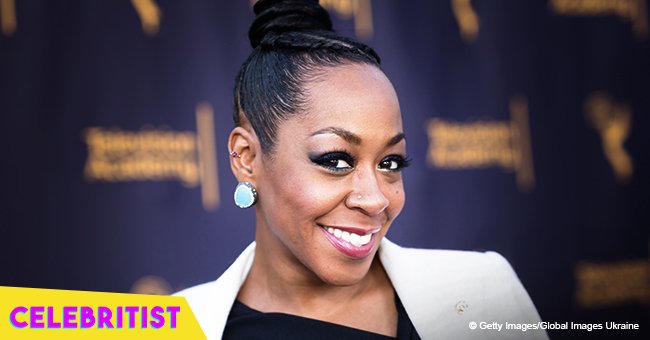 Tichina Arnold shares videos with her teen daughter showing off her singing skills
The "Martin" star has been entertaining her followers with clips of her 14-years-old talented daughter singing her heart out. The girl, Alijah, is interested in the entertainment industry, and she's also a fantastic ballet dancer.
Tichina Arnold is a great actress, but what many people don't know is that she also has an incredible voice. On "Martin," the now 48-years-old showcased her talent in a few chapters while giving life to Pamela James.
Although not as widely known, she is a recording artist under the name China Ro, and one song she co-wrote and performed with house music artist Inaya Day reached the number 2 position in the Billboard Club Play chart a few years ago.
Now, Tichina is making way for her gorgeous teenage daughter, whom she shares with record producer Carvin Haggins, and the girl is proving that talent runs in the family.
At 14, Alijah is an incredible ballet dancer and singer. Her mother is always sharing videos of the girl singing; whether is at a family gathering or on their way to school the girl has a confidence and voice color that she can use for her benefit in the future.
Like her mother, Alijah has a bright personality and attitude, and even though she knows her mother has been in the game for a long time and has the tools to teach her a thing or two, she threw the camera a sassy look when Tichina admitted "for those of you who say my daughter can sing better than me…of course, she can!"
Wearing matching black hoodies and with their seat belts on, the mother-daughter duo started their morning by singing to "If You Let Me" by Sinead Harnett. "I know it's been a while. School is out. So Alijah and I have decided to start a #SummerMorningPlaylist for your enjoyment," Arnold wrote in the caption of her Instagram video.
And in another clip from the same day, Aliyah distracted her mom from fussing about their playlist by playing Rihanna and DJ Khaled's "Wild Thoughts." Fans of the actress filed her comment section with praises for her daughter, saying things like:
"jesjosgra: Babygirl is blessed with them vocals!!"
"adele129: I love her!!! So much heart AND talent!!!!"
"justjuiceycatering: You two are so freaking cute. Can you two please put an album out together. I'll buy it."
"talleymarq: I love this. Song and. Lord. She. Has the. Range... Momma u gave her those genes with love and prosperity."
Aliyah is still in high school, and even though she seems interested in joining the music industry, we'll have to wait and see where her talent takes her. We can't wait to hear more from this talented girl.
Please fill in your e-mail so we can share with you our top stories!