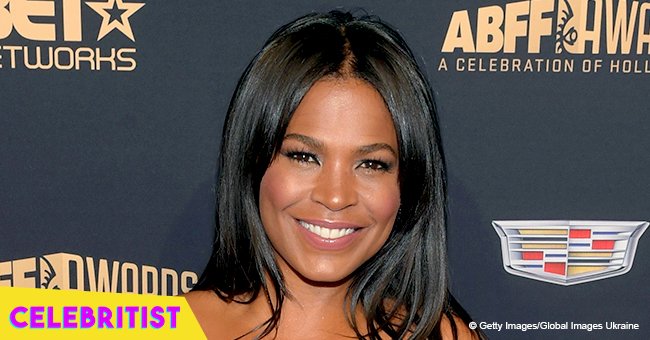 Nia Long's famous sister shares photo in T-shirt, pink turban and sunglasses
The 52-year-old American comedian and actress shared a special message about how she has so much confidence, with a note of thanks.
Sommore Long, known only by her stage name of Sommore, is the half-sister of Nia Long, another famous Hollywood actress, but the two live completely separate lives.
Recently, Sommore took to Instagram to share an image of herself all dressed up - almost in disguise - and striking a pose at the camera.
"My confidence comes from my hard work and commitment to my brand. I surround myself with people who make me level up. @comedybyturae @tonysco@DarrenDsSanders @rayzorcomedy Thank yall for keeping me on my toes... We who love and understand stand up comedy....keep banging stages!" she captioned the shot.
In the image, Sommore wore a white t-shirt with gold chains printed around her neckline, a pair of dark grey, silver-rimmed sunglasses and a silky pink turban. She also wore a gold watch and a double string of pearls around her neck.
Sommore has made a career for herself as a comedian, doing stand-up shows. She has also appeared in a number of films over the years, often either as herself or a comedian.
She hosted ComicView from 1994 until 1995, and returned to host again in 2014, a job she still does today.
Sommore is the half-sister of actress Nia Long, who is 5 years younger than her. Although the women share the same father, Doughtry "Doc" Long, a poet and author from Atlanta, Georgia, they don't share a close bond at all.
The sisters are rarely seen together, but have shared that when they do see one another they are perfectly civil towards each other.
At the start of her career, Sommore never revealed that she and Nia are related, because she wanted to create her own success off her work, rather than becoming famous simply by association.
The two girls were not raised in the same household, and barely know each other. They don't feel that sharing a father necessarily makes them sisters.
Please fill in your e-mail so we can share with you our top stories!