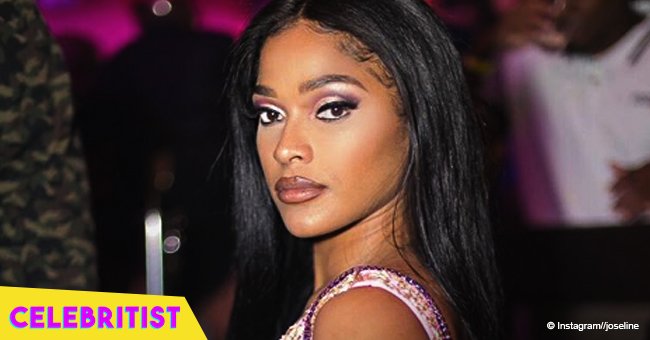 Joseline Hernandez shares photo hugging her little daughter after critics slam kid's hair
The television personality and reality star has faced a lot of flack for her parenting style recently, particularly from keyboard warriors on her social media photos.
Joseline Hernandez of Love & Hip Hop: Atlanta is loved by many and hated by more. But the Puerto Rican Princess has become ace at ignoring the hateful comments that she so regularly faces..
After quitting to Love & Hip Hop: Atlanta in 2017, Hernandez was involved in an ugly custody battle with her former partner Stevie J, over their daughter, Bonnie Bella.
When she was finally awarded primary physical custody of the sweet little girl, she moved away to Miami in order to start a new life away from all the drama she had faced in Atlanta.
Since the move, the reality star has been focusing on her career in music, her new fitness business, and raising her daughter.
At the beginning of June, Hernandez shared a lovely photo of herself and the tot in her dining room. Bonnie is seated on their table, wearing a white jacket, a pair of shorts, and some sandals. She has a bright bow in her hair.
Hernandez is wear a burnt orange robe, which she has left falling down her thighs and falling almost open at her chest. She has her arm around her daughter as they look into the camera.
She loves sharing photos of the 18-month-old tot, often dressed up in adorable little outfits. Bonnie Bella has become a central figure on the rapper's Instagram account since the mother-daughter duo moved to Florida.
But unsurprisingly, the increase in coverage of Hernandez's daughter has brought plenty of vicious commenters out of the woodwork.
One particular photo of Bonnie wearing a big colorful bow in her hair earned plenty of hatred for Hernandez as a mother, since many people pointed out that she likely gelled the girl's edges, something that they deemed unnecessary.
One particular harsh commenter wrote: "She may be 'fine' but her edges ain't. You know her nutty [expletive] mom gelled them hairs like that."
Another went as far as to call Bonnie Bella "ugly," but the television personality's die-hard fans were there to defend the little girl against the uncalled for comments.
One person wrote: "God bless this baby. I can't believe these demons out here really got the nerve to talk about u sweetheart. You are very beautiful and have beautiful hair."
While another added: "To see comments on this post that speak negative of this beautiful child who is very well taken care of by her mother and dressed appropriately is sad."
Meanwhile, Hernandez continues to ignore the vitriol, and enjoys styling her daughter's hair as she pleases while sharing many cute photos of her on social media.
Please fill in your e-mail so we can share with you our top stories!