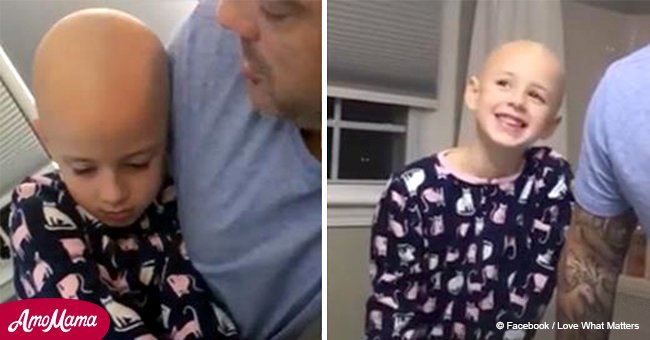 Young girl with alopecia tells parents she doesn't love herself but dad decides to support her
When young Riley felt upset and admitted she does not love herself, her father, Dave Sylvaria, taught her to be 'strong, confident, and loved.'
The mother of the little girl, Chelsea, shared videos of her husband inspiring her child on Facebook on December 11, 2017.
First grader, Riley, lost her hair because she suffered from alopecia. She confessed she does not love herself due to the lack of curls.
The family, who lives in Bristol, Rhode Island, is supportive of their member and the father showed his love for her by offering to shave his head. He wanted to show that hair was not all that important.
Riley felt upset and confessed to her mother, 33-year-old Chelsea Sylvaria. The moment inspired her father to do something to make her feel better.
Chelsea shared two videos of what the family did to make Riley overcome the 'minor bump in the road of life.'
The clip begins with Dave pulling his daughter over him to talk about what she told her mother. He says that she is a very special girl, in fact, 'the most special girl in the whole world.' He also adds that hair does not matter at all.
The father stresses that everyone loves her with or without her hair. Riley is taking in what her father says but her face lights up when he surprises her with an offer to shave his head.
The clip then shows the family around Dave who is shaving his head in the sink. He is flanked by Riley and his son on both sides, who are watching him in awe.
'Dave wanted to talk to her about what she had said... this was the result. I love this man with all my heart.'
Chelsea Sylvaria, Facebook, December 11, 2017.
The doting father even asks Riley to help him shave his head. He then confesses that he needs to get a tan because Riley's head is tanner than his. The remark makes his daughter chuckle, while he gives her a sweet kiss on her cheek.
The viral video was watched more than 12 million times with users praising Dave for being an amazing father to his children.
Chelsea added that the family wants her to know that it was okay to get upset and that she is a strong and beautiful young woman.
Please fill in your e-mail so we can share with you our top stories!