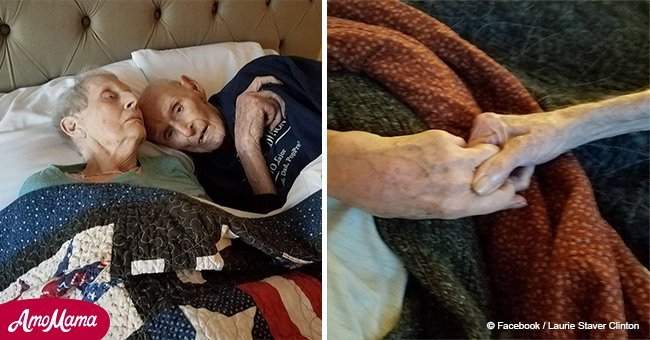 WWII sweethearts die hours apart after 70 years together
Lovers Isabelle Whitney and Preble Staver, both of whom served the United States during World War II, died within hours of each other in October 2017.
According to Inspiring, The couple met each other during a blind date in Philadelphia. But they both put their love story on hold to serve the Allies during the war.
Whitney served as a nurse in the Navy stationed in Maryland, while Staver served as a Marine, who also earned a Bronze Star for his services during the tenure.
They were reunited five months after the conclusion of the war and got married on February 15, 1946. They were together in a joyous relationship for over 70 long years thereafter.
62-year-old Laurie Staver Clinton, one of the couple's five children, told People that their parents were "great people," before further sharing the life lessons that they had imparted upon her.
She explained that Whitney taught her that you cannot change another person, but you can change your own attitude toward them.
Laurie also said that her father was the stricter one among the two. "Mom tried to be strict, but we knew what we could get away with her. It was pretty much a father rules the roost sort of thing," she further told the online source.
In 1975, the couple suffered the worst possible tragedy when their son, Peter, died while playing football during the last game of his senior year of high school. However, the couple stuck through all the ups and downs that life threw at them.
"They really enjoyed each other's company. It was just fun to see them, and they made a nice little life for themselves," Laurie further revealed.
Then in 2013, Whitney started showing signs of dementia and she had to be moved into a long-term care facility in Norfolk. But even when her dementia worsened, she never forgot what Staver meant to her.
"Sometimes we'd have to tell her to focus and look," Laurie told, "but when she looked and knew it was dad, she'd get that little smile."
Only 14 hours after Whitney's demise on October 25, Staver passed away. The family held a joint funeral for the couple at a church cemetery in Virginia Beach.
Please fill in your e-mail so we can share with you our top stories!