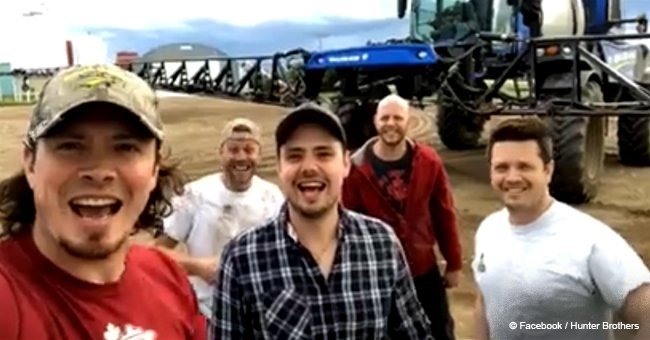 5 hunky farmer brothers sing hilarious 'Friends in Low Places' parody about the drought

In the tune of the famous country song, Friends in Low Places, the Hunter Brothers sang a hilarious parody lamenting about the lack of rain in their area.
A video posted on the official Facebook page showed the four brothers belting out the famous song with their own lyrics to open up about the dry condition in the farms.
Luke, J.J., Ty, Brock, and Dusty Hunter grew up on their family farm playing a lot of hockey and singing songs together. They might have moved on to different professions but their love for singing never faded away.
In the video, the brothers stand outside on their dry and dusty land while they present their parody song, I've Got No Grain In Dry Places. They then sing aloud the changed lyrics in a perfect harmony and enthralling voice perfectly in-sync with one another
"I got no grain in dry places, all the crops are short and the sun chases the rain away," the song began. "But we'll be okay!"
The brothers' light-hearted attempt at seeing the funnier side of not having enough rain was warmly received by people on the internet.
It has been viewed almost around 2 million times so far and has gathered over 17,000 likes and around 25,000 shares.
In an interview with FYI Music News in January, J.J. talked about how the brothers founded the band. He attributed their passion for music to long hours of performing at the festivals and events throughout western Canada and in the U.S.
"We are quickly learning that the process of being a musician is much more about the journey than a destination. Goals are important, but enjoying the process is something we've talked about extensively as brothers," he told during the interview.
Please fill in your e-mail so we can share with you our top stories!