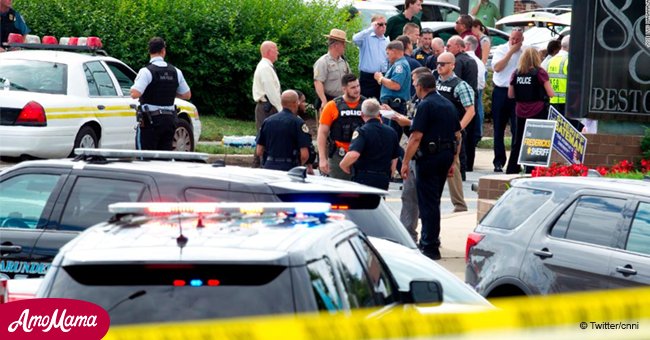 Here are the names of Capital Gazette newsroom shooting victims
The identities of the five victims of the shooting at The Capital-Gazette have been revealed and their backgrounds and lives are now being remembered by those who knew them.
It was a terrifying day for the newspaper employees who were working at the times the bullets started flying on Thursday, June 28, 2018, forcing them to hide under their desks or run for their lives.
Two of them were injured and five lost their lives, with their identities being made public on Twitter.
65-year-old Wendi Winters worked for The Capital-Gazette as a full-time member since 2013 after working for ten whole years as a freelancer. She had four children and was known to be a Red Cross volunteer and a Girl Scout Leader.
Just a reminder - if you wish to learn more about the wave of gun violence terrorizing the United States of America, please consider following us on our Twitter account @amomama_usa.
Rob Hiaasen, another victim, worked as assistant editor at the newspaper, and his brother, Carl, paid tribute to him by going on Facebook and sharing the sad news.
Carl did so even before the police had confirmed the victims' passings; Hiassen was remembered for having a larger-than-life personality and always displaying a wide smile on his face.
Hiaasen passed away on his wife, Maria's, birthday. In her opinion, there was no 'finer human being' than her husband, who she also considered to be an amazing journalist.
Gerald Fischman also perished on Thursday. While at The Capital-Gazette, he would mostly write editorials, a job that he held for 25 years, even though he was denied the position when he first applied for the job.
His colleagues described him as a quiet person, who spent his days sitting at his desk, surrounded by piles and piles of books as he worked on his journalistic pieces.
John McNamara was a sports editor for The Capital-Gazette for the past 24 years and was seen as a 'jack-of-all-trades.' He was highly versatile when it came to his job and was considered to be a very nice and easy-going person.
The final victim's name was Rebecca Smith, a 34-year-old sales assistant at the news outlet who was described as a down-to-earth person who was always very 'kind and considerate' of other people's needs.
The victims' families are now mourning for their losses, and while an investigation has been opened, police have refused to reveal the identity of the man responsible for the murders.
The shooter, who was only described as a white man in his late 30s, was found hiding under a desk in the building he stormed in armed with a shotgun and several smoke grenades.
Please fill in your e-mail so we can share with you our top stories!