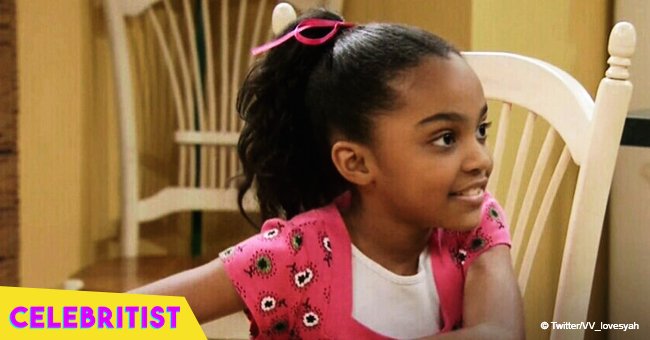 Remember Jazmine from 'House Of Payne'? She is all grown up, building music career with her sisters
China Anne McClain has been in the industry since she was a little girl. Better known for her role in Disney's series "A.N.T Farm" and the film "Descendants," she's started to strive apart from the teenage roles with her most recent work in the superhero series "Black Lightning."
The 19-years-old black beauty grew up in a family filled with talented musicians. Her father, Michael McClain, is a music producer, sound engineer, writer and vocalist that has worked with stars such as Solange Knowles. Her mother, Shontelle, is a known vocalist and songwriter.
"There was always music playing in our house," China said last year in an interview with Rolling Out. "So, at the age of 3, I was like, "I want to be a singer." I could barely talk, but that's what made me who I am, and that's what gave me the love of music that I have today."
Her vocal talent opened doors for the girl in Hollywood, and after her first role in the film "The Gospel," she realized that acting was also in the cards for her. She showcased her comedy skills in Tyler Perry's "House of Payne," and later captured fans' hearts along her sisters Sierra and Lauryn on "Daddy's Little Girls," where the siblings shared the screen with Idris Elba.
China's career blew up after she was cast as the leading role of Disney's "A.N.T Farm" where she was able to develop her singing career by participating in the series' OST. Besides her solo endeavors in music, China, and her sisters also have a singing group, McClain, signed with Hollywood Records.
These days, China has been earning more attention thanks to her role as the villain Uma, Ursula's daughter in Disney's film "Descendants 2," and in fact, her song for the movie, "What's My Name," was certified gold by the RIAA.
McClain recently finished filming for the first season of the new CW series "Black Lightning," where she plays the role of Jennifer Pierce, the youngest daughter of the African American superhero. A second season has been already confirmed.
She's also working on "Descendants 3," where she will reprise her role as Uma.
When asked to which of her current characters she relates the most, the young lady said:
"That's a great question. I feel like it's a perfect mix between both Jennifer and Uma. Because Jennifer at the start of the show of Black Lightning is going through a lot of stuff. She's growing into herself. She's getting to know herself. Getting into some trouble and you know I've obviously been through that with my parents. So, I have a little bit of that and the just learning about myself."
"And then there's the side of Uma that's very like I said determined and willing to do what she needs to do and work as hard as she can to get it. And that's where my, "been-working-since-I-was-5-years-old" side comes in because I take that very seriously. So, I feel like it's a mix."
China is currently living one of the most relevant moments in her career, but fame doesn't distract her from what's important: family. She told Twist that:
"My family is pretty much everything to me. They have inspired me and taught me so much. I definitely would not be where I am as a person if it weren't for my family caring for me as much as they have. I will always appreciate them for that."
Please fill in your e-mail so we can share with you our top stories!