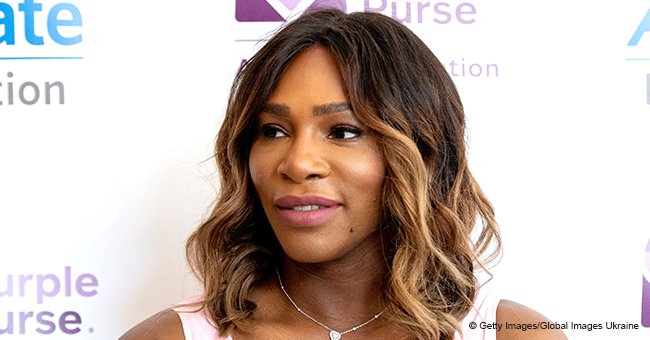 Serena Williams stuns in long white dress amid doping scandal

The tennis star has been grazing lots of magazine covers in the past months, and she recently shared a beautiful outtake from a photo shoot with In Style Magazine. The new mom is in the middle of a doping scandal after she refused to take a drug test that she deemed "invasive and targeting."
Serena Williams made her big significant return to tennis six months after giving birth to her first child, daughter Alexis Olympia. Even though her results have not been the best, and she had to retire from the French Open because of a pec injury, Serena is still considered an example of resilience and strength among women
The star is in the cover of In Style magazine August issue, dedicated to "Badass Women" and she recently shared a beautiful pic from that photo shoot on her Instagram, looking stunning and ethereal in a plunging long white dress. In the pic, the star is posing barefoot and with a hand on her waist as she stares to the right in between two beautiful pillars.
The photo, shared without a caption, was posted amid Serena's doping scandal. On Wednesday, a report by Deadspin revealed that the 23-times Grand Slam champion recently refused to take a surprise drug tested conducted by the U.S. Anti-Doping Agency.
According to the report, a doping control officer showed up at Serena's residence in Florida. She was not home, but an assistant let the man in, and he refused to leave without Serena's samples. This prompted the athlete to make a call to the Women's Tennis Association CEO Steve Simon, to let him know she felt unfairly targeted.
A spokesman for Serena released the following statement about the incident:
"Over her 23-year career in tennis, Serena Williams has never tested positive for any illegal substance despite being tested significantly more than other professional tennis players, both male and female – in fact, four times more frequently than her peers. She has vocally supported, respected and complied with USADA testing throughout her entire career. While she willingly continues to submit to testing, there is absolutely no reason for this kind of invasive and targeted treatment."
Just this year, Serena has been tested five times while some of her peers have only been tested once or twice.
According to the USADA, the organization "retains the right to test any athlete at any time and may target test athletes as USADA deems appropriate."
Earlier this year, Serena subtly complained about the doping test, tweeting:
The 35-years-old to In Style about being a Badass woman:
"I'm always in the fast lane. I'm always extra. I have to be willing to do the work, and I have been. Because, to be honest, I feel pressure to be Serena. But these days I keep telling myself I don't have to be anything. This is for me."
Please fill in your e-mail so we can share with you our top stories!