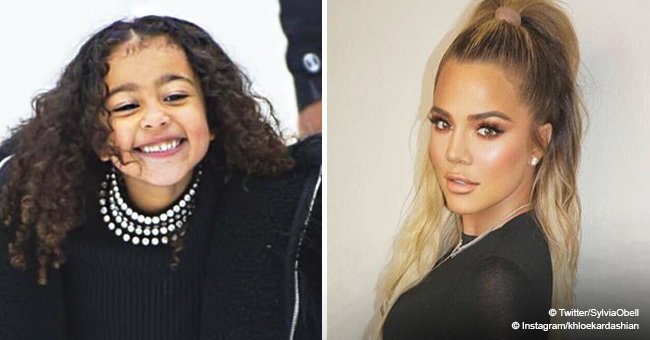 North West steals the show in pink outfit at auntie Khloé K.'s birthday bash

Kim Kardashian's eldest daughter always steals the spotlight from her famous family even if she doesn't mean to do it. The adorable girl was present at her aunt Khloé's birthday party, and her gift for the new mom has made it to the headlines.
Khloé Kardashian celebrated her 34th birthday, her first as a mom, with a low-key celebration in the company of her closest friends and family members.
The birthday bash took place at her home in Calabasas, and the guests were wearing comfy clothes while chilling next to the fire pit, lounging by the pool and then had dinner at a table beautifully decorated with flowers and candles
The reality star was able to reunite her sisters, Kim, Kylie and Kendall, with her baby daddy, Tristan Thompson. Even though the cheating scandal that hit the news two days before Khloé gave birth to baby True made the whole family resent Tristan, it seems like they're now back in the right place.
Kim Kardashian cheekily asked the Cavaliers player to unblock her on Instagram, and she shared the moment with her millions of followers. Thompson even followed Kim back. He first blocked after she talked about his cheating ways on The Ellen De Generes show a few months ago.
The mother of three went to the party in the company of her eldest, North West, and as usual, the girl stole the show without any efforts. Aunt Khloé shared several videos on Snapchat with Northie wearing different filters that gave them whiskers, cat ears, and big eyes.
North was seen munching on something, and at some point, the pair was joined by Vogue model Kendall Jenner, who showed her best moves to the camera before.
The big absent of the night was Kourtney Kardashian, who's on a getaway with boyfriend Younes Bedjima.
Wearing a pink outfit and her naturally curly hair flowing down her back, North made her aunt happy after giving her a gift from her and her mom.
The present, decorated in Kimoji wrapping paper, turned out to be a Balenciaga money print purse valued at $3k. Khloé, always the doting aunt, explained to North that the bag represented her nickname, Khlomoney.
It seems like Khloé have an incredible celebration. Even though the Kardashian always go all out with big, lavish parties, the new mom probably wanted something more intimate so that she could enjoy of her little daughter as well.
Watch Khloé's snaps below:
Please fill in your e-mail so we can share with you our top stories!