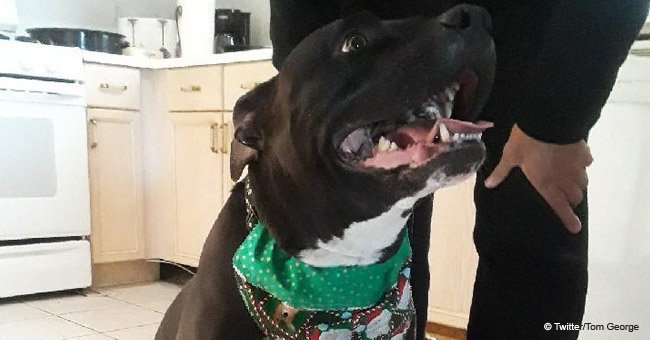 Pit bull shot and killed 'point blank' while on a walk with his owner

What started as a regular daily walk for Fossum around the neighborhood at Clark County became a tragic incident in seconds.
Tom Fossum still cannot fathom what prompted another dog owner to ever think about shooting a dog. Tom owned a five-year-old pit bull named Leo, who he used to walk near the Rhoades School and his neighborhood daily.
On Saturday evening, the disaster occurred which he couldn't comprehend. Fossum's pit bull encountered another dog going on a walk, a mixed black lab.
As per Fossum, there was hostility between the dogs that became apparent as they growled at each other.
Fossum stepped in to break the tension and was sure he could manage the situation, but before he could do that, without warning, the owner of the Labrador shot straight at Leo. The fatal shot hit him near his back leg
All the things happened so fast, Fossum could only ask why, but as reported by the News Las Vegas, the shooter just responded by saying "Call 911". Despite repeated questioning by the bewildered Fossum, the gunman remained unresponsive.
As the incident happened within the school grounds, Fossum called the Clark County School District Police. However, the CCSD did not take action against the shooter.
The CCSD Police have closed the case stating the shooter had a gun license and was within his rights to shoot. Read more about Fossum and Leo on out Twitter account @amomama_usa.
Since the incident started outside the school property and ended on the school grounds, the shooter was not charged for carrying a gun on school property.
Undeniably, Fossum was shocked at the inaction of the department and felt that Leo has not been given proper justice. To ensure that Leo's fate is not repeated, Fossum now works actively to spread the news around his neighborhood.
As a last resort to create an awareness, Fossum posted warnings around Leo's old walking route, to inform other dog walkers of the gun-slinging walker in the neighborhood.
Please fill in your e-mail so we can share with you our top stories!