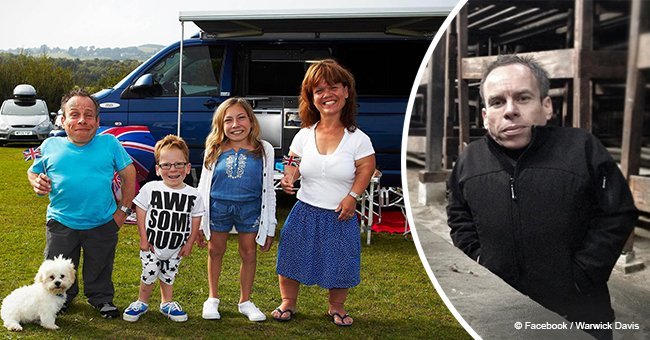 'Harry Potter' actor Warwick Davis revealed heartbreak over the death of his two kids

In his recent television appearance, Warwick Davis opened up about his and his wife's painful experience of losing two of their newborns to health complications resulting from dwarfism.
When 48-year-old Warwick Davis appeared on an episode of Bear Grylls' Bear's Mission show, the conversation took a personal turn, as reported by Daily Mail.
Davis, who is married to actress Samantha Davis, spoke at length about the terrible tragedies that struck their lives when they lost two of their infant children to medical complications.
The couple has two children, 21-year-old Anabelle and 15-year-old Harrison. However, Davis revealed that before Anabelle was born, he and Samantha were blessed with a baby boy, Lloyd.
Lloyd was born with two different forms of dwarfism, inherited from his parents. Lloyd survived under medical observation for nine days before the health complications claimed his life.
Davis shared that it was tough to lose a child after he had survived for a few days, adding that Lloyd was a beautiful baby.
After losing their baby boy, the couple went through another painful experience, in which Samantha gave birth to a stillborn, whom they had planned to name George
The aftermath of the two tragedies was extremely tough for Davis and Samantha. In hindsight, Davis remarked that the phase of suffering also made his relationship with his wife stronger.
Davis was born with a rare form of dwarfism known as spondyloepiphyseal dysplasia congenita (SED), in which his bone endings failed to form completely, which stunted his growth.
Samantha was born with a different form of dwarfism known as achondroplasia.
The loss of baby Lloyd and George was heartbreaking for the couple, especially since both the infants had inherited a fatal combination of their parents' conditions.
Speaking to Daily Mail in 2014, Samantha had shared that Lloyd had been the only child to survive the specific medical condition, and the doctors were able to learn new things from Lloyd.
Samantha also shared that when all hope was lost and life support had been turned off, the baby was given to her in her arms, where he breathed last.
Davis and Samantha, who have been married since 1991, were eventually blessed with Annabelle and Harrison, who have grown up to become aspiring actors, having made their debut in a Harry Potter film.
Davis, who struggled with moving on after the loss of two babies, went on to bag roles in major films like Star Wars and Harry Potter.
Please fill in your e-mail so we can share with you our top stories!