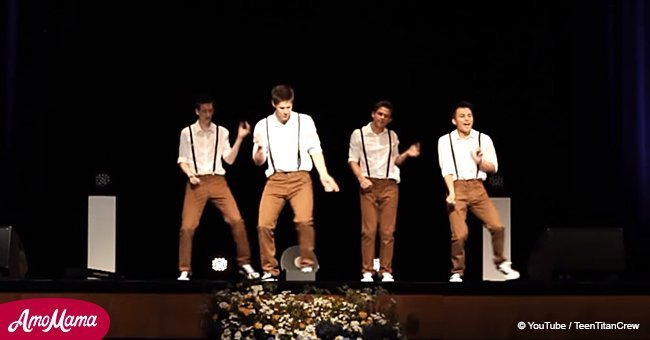 Four teens rock the audience with their dance moves when the 60's song suddenly changes
Four teenage boys from Germany performed an amazing mix-style dance during their prom, stunning the students present at the event.
Their performance further got worldwide recognition when the video of their performance was uploaded to YouTube with the title, New Evolution of Dance.
Apt to the title, their dance indeed presented and set a new standard in dancing with their cool moves and awesome choreography.
At the beginning of the performance, all the boys were dressed in matching brown pants, white shirts, and suspenders.
When the music first started playing, it was Ben E. King's Stand by Me from the 60's. It began like any other dance routine up at this point. But everything changed when the music stopped and a new song started playing.
The next track was Chubby Checker's Let's Twist Again, and the boys changed their dancing style in sync to the new song.
Soon the audience discovers that the teenagers are taking on the dance styles from the 60's, 70's, 80's, and beyond.
The boys perform some of the iconic moves representing that particular musical era and combined it perfectly with their innovative choreography.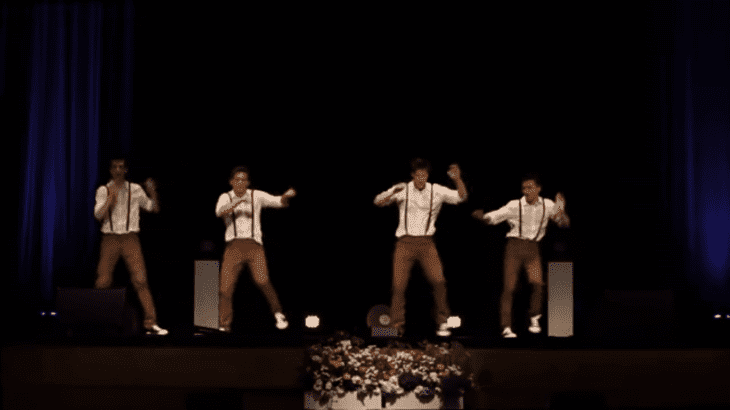 Source: YouTube
The video has so far gathered over 2 million views on YouTube. Many viewers have commented with positive messages and encouragements for the group.
Ali B wrote, 'Great job guys. It looks like great fun and you clearly know what you're doing. Since I can't dance to save my life I'll sit back and admire instead.'
'Wow! So cool! I wish I could move like that!' commented Irving Harrison.
Through their dance form, the teenagers were actually paying a tribute to another viral internet video of the dance performance from Judson Laipply, which was titled, Evolution of Dance.
The dancer posted the video on YouTube in 2006 and it covered several dance styles from various eras spanning the past 50 years of pop culture. It included 12 popular dance songs of the 20th century. The video was posted only six years after he actually performed it.
Laipply's video has been watched on YouTube for over 300 million times as of yet. He is a dancer and a motivational speaker from Bucyrus, Ohio. He has worked as a public speaker since 2000.
The viral video went on to inspire many other artists to re-create similar videos and its parodies as well. The teenage boys from Germany were definitely some of the many young people who were inspired by the amazing video.
Please fill in your e-mail so we can share with you our top stories!