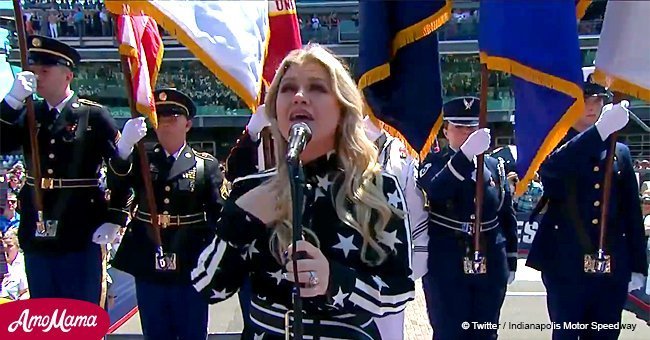 Kelly Clarkson's performance of the National Anthem at Indy 500 was absolutely magnificent
Kelly Clarkson's rendition of the national anthem proved yet again that she truly is an American Idol.
The 36-year-old artist dazzled the Indianapolis Motor Speedway for the annual Indy 500 with her amazing voice and persona, showed a video posted on Facebook.
Over 20,000 fans in the stadium were impressed with Clarkson, who gave one of the best performances of the national anthem in recent years.
The event was already a significant one for many reasons. It marked the return of Danica Patrick to the IndyCar series after exiting in 2013. Moreover, it was also the last time that Patrick would be seen behind the wheel of a racecar.
Additionally, this year also did not see the participation of two most popular drivers, James Him Hinchcliffe and Pippa Mann. Both of them did not qualify for the series and would not be competing this year.
There is no surprise that when it comes to live performances, Clarkson sits right there among the very best of them. However, during this particular performance, she even managed to defy everyone's expectation with her powerful and moving performance.
There is little doubt that performing the national anthem is a matter of great pride for any artist, and that feeling definitely reflected in Clarkson's amazing performance.
Besides Clarkson's power-packed performance, the audience gathered at the stadium were also delighted by the sight of a B2 Stealth Bomber flying over the crowd. Combined, it was really quite a spectacle before the race even officially began.
Before the aircraft's appearance, it was announced to the crowd, and they immediately rose to their feet in anticipation and excitement.
Following the announcement, the B2 Stealth Bomber appeared in the blue skies and flew off over the distance in a matter of seconds, giving the audience a heath-thumping cameo.
Alongside Clarkson, celebrities like Packers quarterback Aaron Rodgers, rapper-comedian Nick Cannon, electronic music producer deadmau5, Arie Luyendyk Jr., actor Chris Hemsworth, and NBA star Victor Oladipo.
Please fill in your e-mail so we can share with you our top stories!