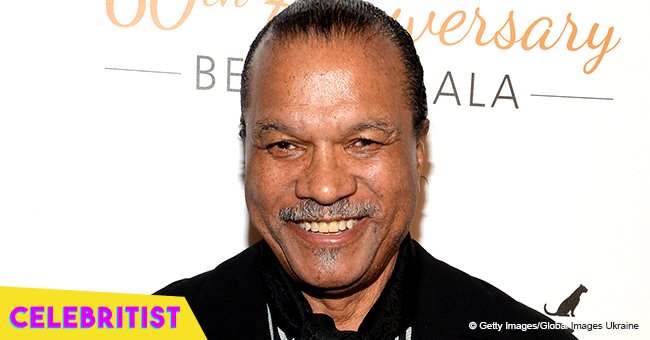 Billy Dee Williams melts hearts with throwback pic of mom and his lovely sister
Billy Dee Williams waxed nostalgic recently as he shared a throwback photo with his mother and sister on Mother's Day. The photo was also reminiscent of a younger Billy who famously portrayed Lando in 'The Empire Strikes Back' and 'Return of the Jedi.' Incidentally, rumors are circulating that the 81-year-old may be appearing in the next installment of the Star Wars franchise. Here's why.
Billy Dee Williams, who rose to stardom appearing in two earlier 'Star Wars' films, took his Twitter fans back in time in a recent photo he shared on Mother's Day. He was sandwiched in between his mother and lovely sister in the snap and paid tribute to them in his caption.
"Letting the memories flood back. My mother and my sister…two women I will always love and cherish. Happy Mother's Day to all the wonderful moms out there."
Billy's mom and twin sister share the same name, Loretta. He once revealed he and his sister were very close although they don't share the same religion. He used to laugh over the fact that the two Lorettas would try to convert him to become a Jehovah's Witness like them but he never budged. He said religion was the one thing he and his twin never saw eye to eye on. However, that never kept them from being close.
Billy just turned 81 in May and a tweet by MegaCon Orlando noting his birthday seemed to have ushered in rumors of his return to 'Star Wars.' It read,
"Fun Billy Dee Williams fact: Billy just had his 81st birthday. He's training three times a week with a trainer and has a whole new diet."
While the tweet didn't directly state Billy's comeback, it reminded fans of the diet and training Mark Hamill and Carrie Fisher also did prior to appearing in 'The Force Awakens.' And if Billy was also doing the same regime, it could signify his impending return on the big screen as an older Lando.
It's no secret his other contemporaries Harrison Ford who played Han Solo, Hamill as Luke Skywalker and Fisher as Princess Leia have returned in recent 'Star Wars' films leaving Billy as the only one who hasn't been back. His character did return recently in 'Solo: A Star Wars Story' but Danny Glover was made to portray the young Lando.
But now that Han has died in 'The Force Awakens, Luke became one with the Force in 'The Last Jedi' and with Fisher's untimely death after completing production on 'The Last Jedi', there's enough room for Lando to come into the picture to fill the mentor gap for Rey, Finn, and Poe. The three will definitely need all the help to take down Supreme Leader Kylo Ren.
Please fill in your e-mail so we can share with you our top stories!