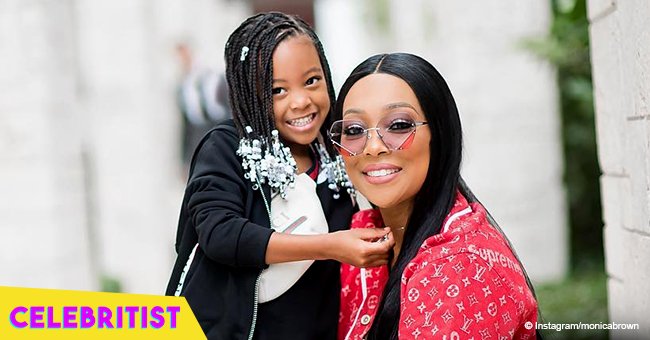 Monica Brown snatches hearts in pic with daughter wearing matching colorful bathing suits

Now that summer is here, Monica Brown made sure to hit the pool with her adorable daughter Laiyah.
What better way to enjoy sunny days than in the pool? Monica and Laiyah made sure to seize the good weather as they hit the pool in matching swimwear.
The beautiful mother-and-daughter duo lounged on a large unicorn floater, wearing matching colorful one-piece swimwear. They accessorized their summer outfit with their own pairs of hip shades, Laiyah sporting diamond shaped shades, while her mother donned a pair of mini visor shades.
The hardworking mother made sure to add a touching caption to her photo, saying:
"This is my "I work for her face" Gotta Love it... I thank God daily for giving me the Sun, the Moon & the Stars .... My children represent them all......"
Monica kept her hair neat in a purple bandana, while her adorable little daughter had her hair neatly braided with beads on the ends, a perfect summer look.
According to Monica, it's best for her to hang on to her daughter, while riding the unicorn floater as she is not afraid of anything, and the two of them might unexpectedly fall in the pool.
While the Brown girls seemed to have enjoyed their mother-and-daughter bonding time, Monica made sure to share with her followers that her two older sons were off doing something more "dangerous and manly", and that they were not interested in a unicorn floater.
"P.S. The boys have NO time for our shenanigans & definitely not this float so don't ask where they are !! Off doing something dangerous and manly"
Aside from swimming, the lovely duo seems to enjoy playing outdoors as well. The Browns showed their competitive sides while playing a game of toss while on a sidewalk, spending time with Monica's brother Sterling and her older son, Rodney Ramone Hill III, 13.
Monica is the proud mother of Rodney Ramone Hill III and Romelo Montez Hill, whom she shares with Rocko. Meanwhile, she shares her daughter Laiyah with her current husband Shannon Brown, whom she married in 2010.
Please fill in your e-mail so we can share with you our top stories!