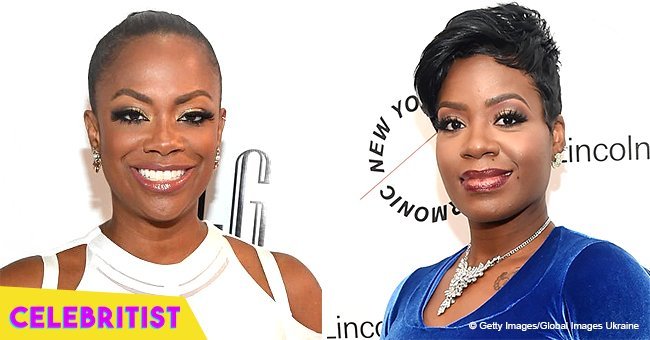 Kandi Burruss shares throwback photo with Fantasia in animal-print swimsuits on her birthday
The "Real Housewives of Atlanta" star shared a beautiful pic with R&B singer Fantasia and fans are can't stop praising the beautiful women on their "heavenly bodies."
Kandi Burrus gave her fans a glimpse on her friendship with Fantasia Barrino after sharing a throwback photo on Instagram of the pair enjoy a beach day in their stylish bathing suits. In the pic, Kandi is wearing a black and white off the shoulder bikini and sunglasses, while Fantasia looked stunning in an animal print two-piece bathing suit that enhanced her curves and a stylish black hat.
"Here's a good old throwback! Happy Birthday, @tasiasword!!!! I love you! Everybody give Tasia some bday love!" wrote Burrus to congratulate her friend on her special day.
Fantasia, on the other hand, also shared with her followers a beautiful photo alongside her husband, as she revealed everything he did for her to make her smile on her birthday.
Wearing a tight black dress with a sheer skirt that put her toned legs on display, Fantasia looked stunning posing with a black fan and a sultry look as her husband talked on the phone in the background.
She wrote in her caption some heartfelt words for the man, saying:
"Having birthdays and being able to see another year is special but today You made my day so much more than that. I woke up, and you cooked me breakfast and gave me a gift you told me to get dressed to go for lunch and gave me a gift when we got back home you gave me another gift and now you're taking me out and You gave me another gift?!! Kendall, I want you to know that "you are the best gift" that I've ever received!!"
Just a few weeks ago, Barrino had the honor of singing at the Songwriters Hall Of Fame 49th Annual Induction and Awards at the Marriott Marquis Hotel in New York City, months after the tragic death of her 18-years-old nephew, Tyquan Vonricco Washington.
Kandi, on the other side, recently debuted her new late-night show "Kandi Koated Nights," and she has been getting good reviews from fans and critics for her honest take on sexuality, love, and relationships.
"You need to know your body. You need to know your own body and then, sometimes, it's good to be able to talk to your homegirls, and maybe she can tell you some things that you didn't know," said Burruss to Essence about her view on some of the topics that could be considered as "taboo" for many people.
"Let me be that homegirl, please. That's what Kandi Koated Nights is about. I have so many people that will say that they watch the show because we talk about things that they've always wanted to know but they never really could say to anybody else."
Both women are living their best lives, personally and professionally, and we're glad to know they have a beautiful friendship.
Please fill in your e-mail so we can share with you our top stories!