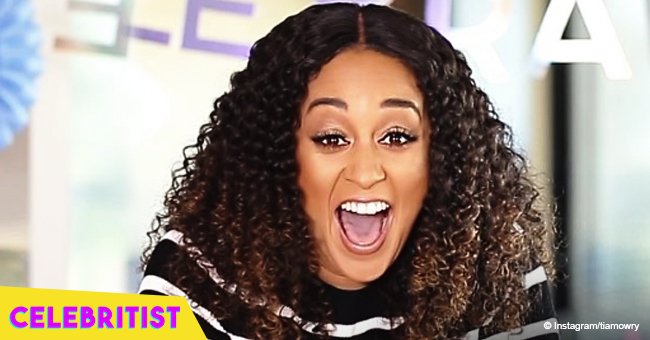 Tia Mowry steals hearts with photo of baby daughter in white tutu and lacy socks
The reality star and actress gave birth to her daughter at the beginning of May, but made her fans wait until the end of June before introducing them to the newest member of her family.
Tia Mowry's daughter made her appearance on May 6. Naturally, her fans were excited to know what she had decided to call her little one, and wanted desperately to see her face. Mowry made fans wait until the end of June before she obliged them.
On June 28, during an episode of Tia Mowry Quick Fix, the host shared that she and husband Cory Hardrict had named their little girl Cairo Tiahna Hardrict, sticking to the same initials their 7-year-old son, Cree Taylor Hardrict, has.
Since then, Mowry has shared a number of photos to her Instagram account that show off her baby girl.
In one image, the 8-week-old tot is wearing a short sleeve white onesie that also has a glittery tutu attached to it. In addition, she has on a matching pair of lacy white socks with a frilly fringe.
She is holding her arms out as she lies flat on her back, and is looking up at the camera.
Within just 2 days, the post had received over three quarters of a millions likes, and Mowry's fans had flocked to the comments section to gush over the beautiful little girl.
In her episode of Tia Mowry Quick Fix about her daughter, Mowry explained the meaning behind her daughter's names.
Cairo means "victorious," and also fulfills a premonition that Mowry's husband had while on a plane, when he saw the letters A, I, and R in the clouds. The couple decided they needed to include the letters in their baby's name.
Tiahna, while also including her mother's name, means "Follower of Christ," and was also the name of one of the first African princesses.
Mowry also shared that during her cesarean section Hardrict had been extremely emotional, and wanted to be as involved as possible in the process, to the point where the nurses actually nicknamed him Papa Bear.
The couple's son has also taken to his new role of big brother with aplomb, and Mowry dished that he helps her with everything pertaining to his baby sister bar nappy time!
Please fill in your e-mail so we can share with you our top stories!