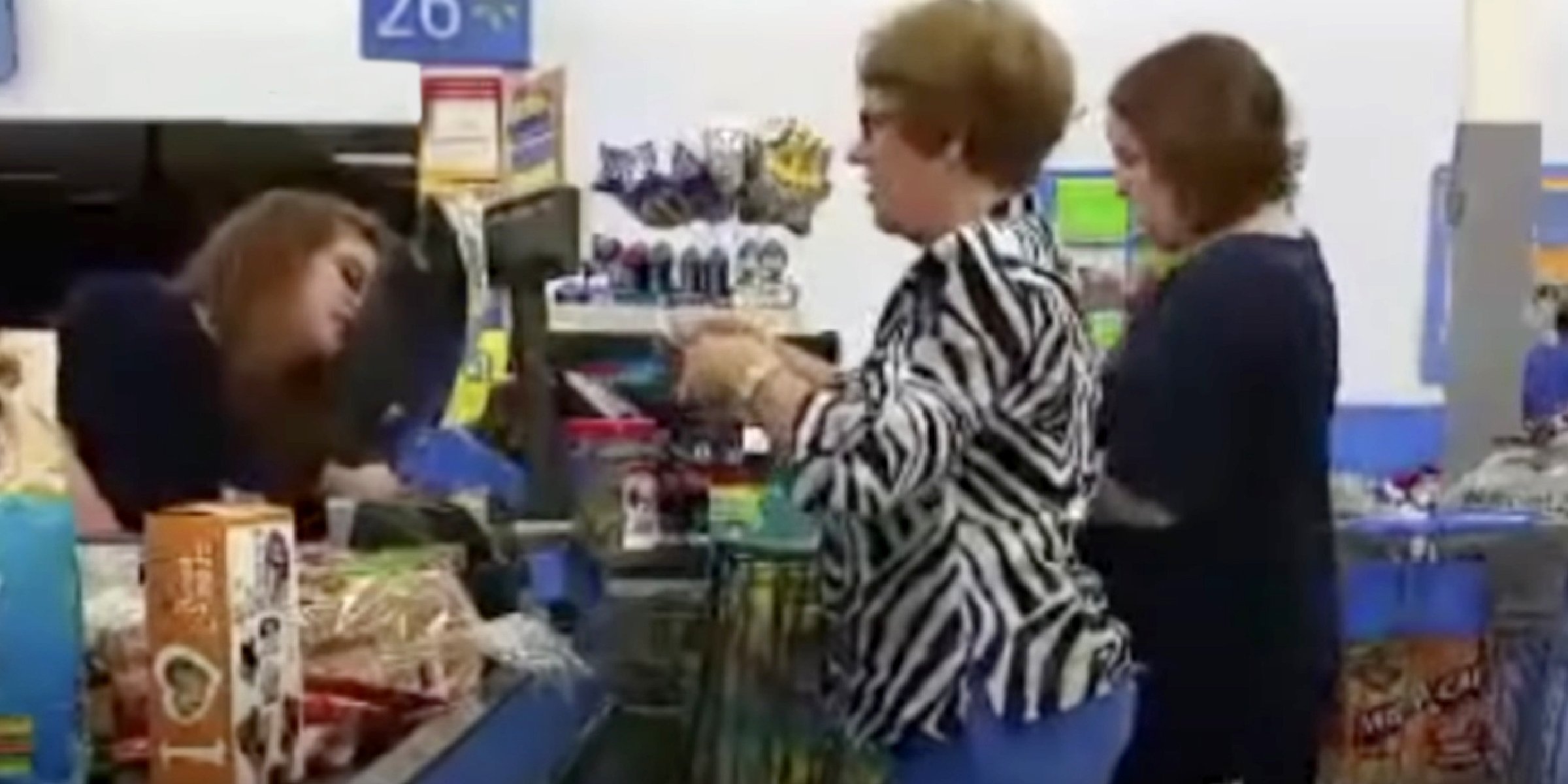 youtube.com/ABC News
Mom Can't Pay For Her Infant's Diapers, Elderly Lady from the Line Steps In
When a mother needed diapers for her baby, she hoped to purchase a few packs at a discount. However, she didn't have enough money when she reached the cashier. An everyday hero overheard the encounter and did something noble.
Generosity and kindness never go out of style, and lending a helping hand can change the course of someone's life for the better.
While many people live life without taking in their surroundings, one older woman noticed something and jumped into action. Her story will inspire you to pay it forward.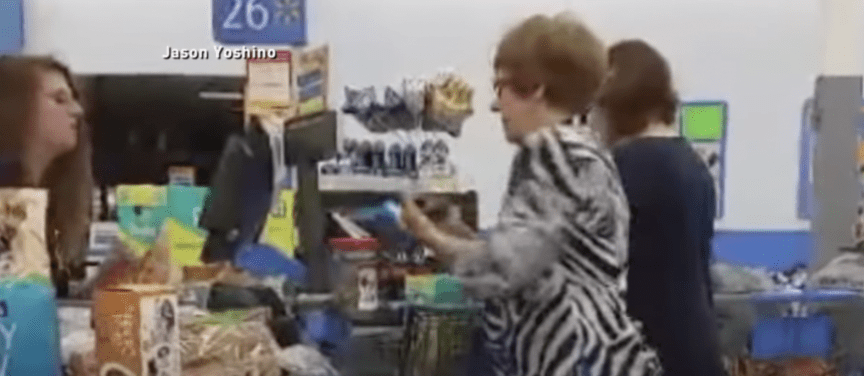 Carol Flynn in Walmart. | Source: youtube.com/ABC News
SHE COULDN'T AFFORD THE DIAPERS
A routine day doing grocery shopping turned into a moment of embarrassment for a mother from South Dakota. She was at Walmart and happy to see the diapers were on sale.
Katie Kanefke decided to buy four boxes of the product for her son, Marcus. However, when she went to pay, the cashier informed her that the special price only applied to every shopper's first box of diapers.
Kanefke prepared herself to return the items, but someone was listening to her conversation with the cashier. A 73-year-old woman couldn't bear to see the mom leave the store with less than she needed.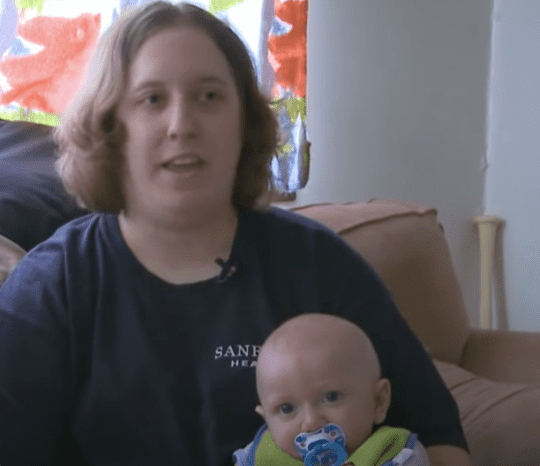 Katie Kanefke and her baby. | Source: youtube.com/ABC News
A STRANGER OFFERED TO HELP
Carol Flynn quickly approached Kanefke with her purse ready. She placed her hand on the stranger's back and proceeded to pay the outstanding amount.
Jason Yoshino, another customer, witnessed the moment and knew he was seeing something special. He quickly made a video that went viral in 2014, touching many hearts.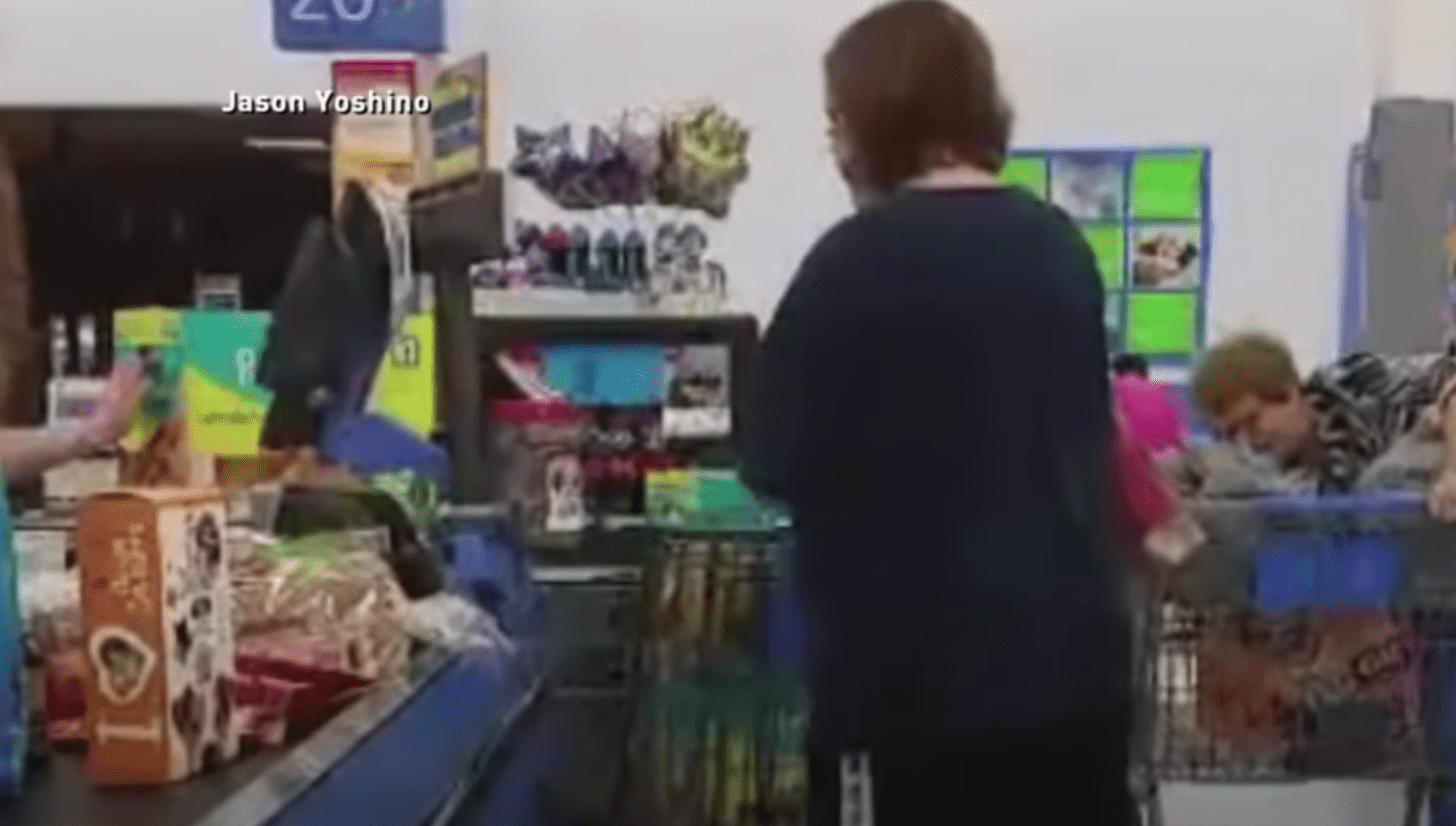 Carol Flynn and Katie Kanefke. | Source: youtube.com/ABC News
THE GESTURE LEFT THE MOTHER IN DISBELIEF
As Flynn took care of Kanefke's items, which cost about $140, the mother was speechless. Flynn also shared a profound message with the customer she helped.
Flynn expressed: "It was all quite simple. I said paying forward is kind of a neat thing to do, and I'm sure she'll pay it forward some time to somebody else." All that Kanefke managed to say was: "Thank you, and God bless you."
The older woman had no idea that her actions went viral, but she was happy that good deeds were getting attention. Her random act of kindness also sparked a chain reaction.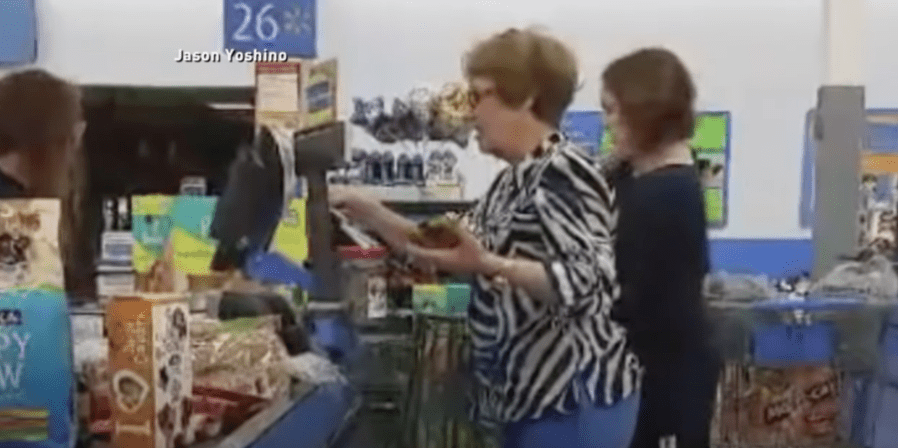 Carol Flynn and Katie Kanefke. | Source: youtube.com/ABC News
THE SMALL GESTURE MADE A SIGNIFICANT DIFFERENCE
The Pampers diapers company learned about the story and gifted Kanefke four large boxes of size-3 diapers. The supply would meet their needs for many months, and the mom was immensely grateful.
Walmart also gave the generous shopper a gift card to show appreciation. Flynn, a former employee with the state March of Dimes, also helped many more youngsters thanks to her viral moment.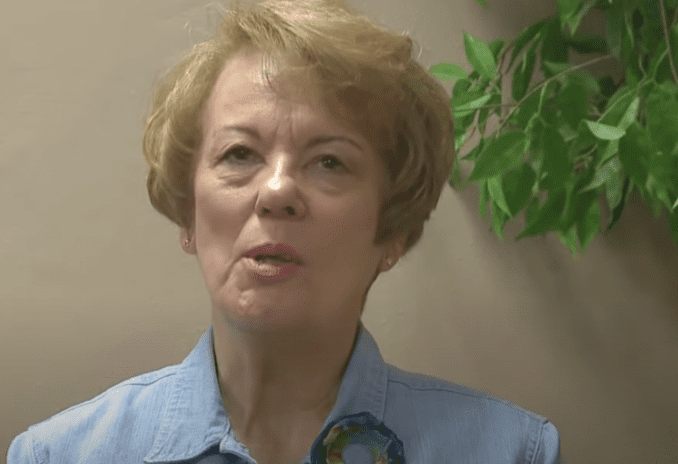 Carol Flynn. | Source: youtube.com/ABC News
IT REVERBERATED AROUND THE COUNTRY
Walmart gave March of Dimes representatives a $1,500 donation that would be put to good use. Flynn stated that the organization was close to her heart and was delighted they received funding. She noted:
"If you work for an organization like that, you need to be passionate about it or it's just a job. I became passionate."
The feel-good moment reverberated around the country, and Flynn couldn't believe the impact of her gesture. "You never know what's going to happen when you walk into a Walmart on a Sunday night," she added.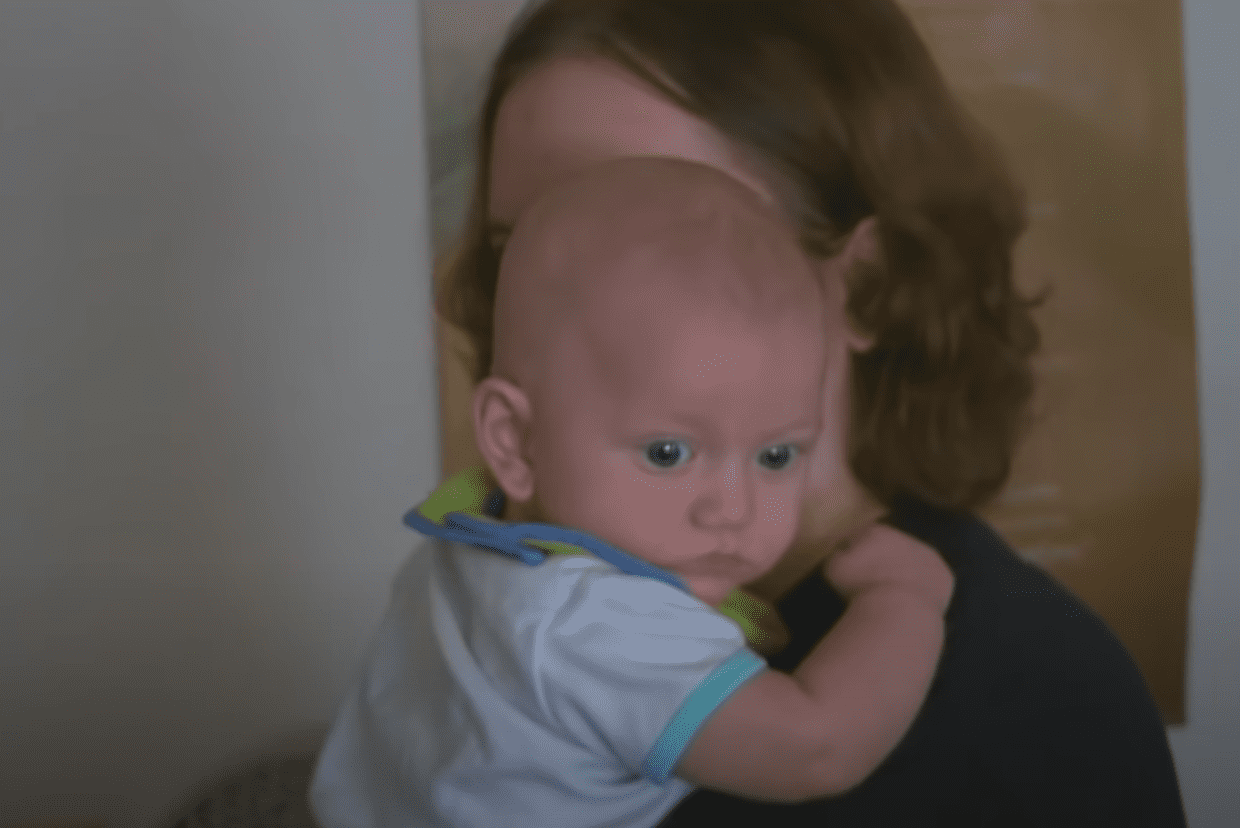 Katie Kanefke and her son. | Source: youtube.com/ABC News
OTHERS EXPERIENCED SIMILAR KINDNESS
The store manager at Walmart praised Flynn and was happy to share that kind deeds were common at their branch. People commenting on the viral video confirmed this.
One user revealed that something similar had happened to her. The mom stated:
"This happened to me one day! I was at the store with my 4 kids and a man saw me struggling with my boys and saw I had told my boys they couldn't buy the candies."
She explained that the kind stranger told her kids they could get whatever treats they wanted, and he would pay for it. The encounter floored the shopper, and she couldn't believe the gesture.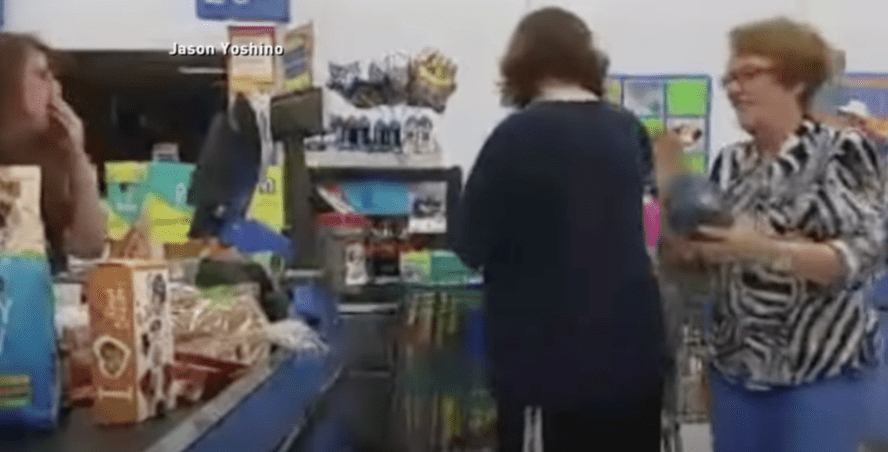 Carol Flynn and Katie Kanefke in Walmart. | Source: youtube.com/ABC News
Another netizen shared that they were without food and struggling to survive when a woman paid for their items. There was $20 outstanding, and the stranger didn't hesitate to help. The act of generosity touched the customer, and they cherished it.
"A few weeks ago, I had about 25 things in my cart and let the lady behind me with one item go ahead of me. No big deal. After a minute, the couple in front of her was trying to pay but were a few dollars short."
The lady paid for the couple's items, and the netizen said she "loved seeing kindness paid forward." One commenter also recalled a memory that melted their heart.
They were at the doctor's and saw a woman approach the front desk, unable to pay for her bill of $37. The user revealed that they had settled the bill, and a few moments later, something special happened. The netizen said:
"Her hubby came out from the exam rooms and she had told him I'd paid their bill. They both put their arms around me, hugged, and thanked me. They were so lovely and grateful that it was sweet."
The many stories from people display that the world is still a good place because of the Good Samaritans, just like Flynn. When was the last time you paid it forward and did something generous for a stranger?
Click here for another inspiring moment that happened in Walmart. The kind-hearted cashier helped customers pay for their items and didn't expect anything in return.
Please fill in your e-mail so we can share with you our top stories!