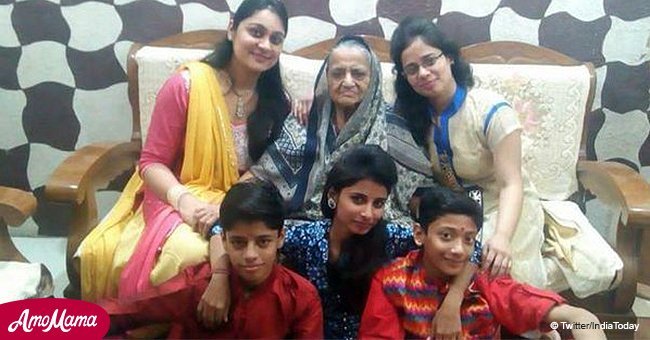 10 family members found blindfolded and hanged in their home
A family in India was found all dead in their home. There were ten members who were blindfolded and hanged while another one was found lying lifeless in the adjacent room.
Police reported that the deaths were executed in such a mysterious manner involving spiritual or mystical practices. The incident occurred at the family's residence in the Burari area of North Delhi on July 1st.
According to The Indian Express, ten were discovered hanging with blindfolds on. All the blindfolds used were torn pieces of cloth from the same bedsheet. Their mouths were taped as well. A 77-year-old woman was found dead on the floor at the adjacent room of the house.
Among the eleven family members, seven were women. The members of the family were later identified as Narayan Devi, 77, sons Bhavnesh Bhatia, 50, and Lalit Bhatia, 45, daughters-in-law Savita Bhatia, 48, and Teena Bhatia, 42, daughter Pratibha, 57, grandchildren Priyanka Bhatia, 33, Nitu Bhatia, 25, Monu Bhatia, 23, Dhruv Bhatia, 15, and Shivam Bhatia, 15.
Follow us on Twitter at AmoMama USA for more details about the family.
As revealed by a police statement, a couple of handwritten notes were discovered around the house and were said to have been explaining some spiritual or mystical rituals practiced by the entire family.
Additional DCP (North) Vinit Kumar said that the "notes have strong similarity with the manner in which the mouths, eyes etc of the deceased were tied and taped."
He added that at around 7:30 a.m., they received a PCR call and responded immediately to the scene of the crime.
The police shared that they have found two registers that had notes on how to achieve moksha or salvation.
Joint Commissioner of Police (Crime) Alok Kumar said, "We have found two registers, with detailed written notes on how hands and legs are to be tied. The state in which 10 of the bodies were found reflected what was written in the notes. These are exhaustive notes, and we are studying them."
No signs of the house being robbed were discovered during the investigation. The police also stated that they have been investigating the case in all possible angles.
The family of eleven owned a plywood business and a grocery store. Their neighbors told the police that the family had been living in the two-story home for about twenty years.
Please fill in your e-mail so we can share with you our top stories!