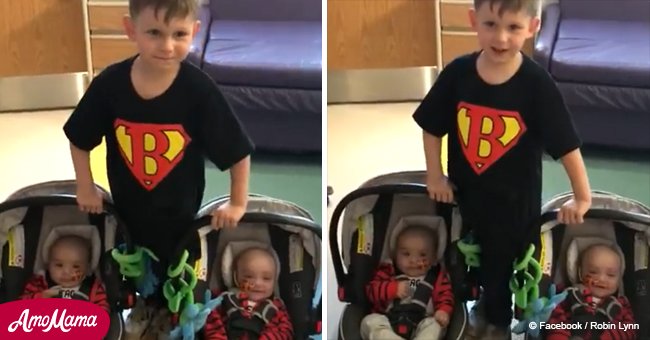 4-year-old boy saves newborn twin brothers from rare chronic disease
Michael Pownall, 4, underwent a bone marrow transplant to save his twin brothers, Santino and Giovanni.
On March 8, 2018, Michael, of Philadelphia, Pennsylvania, was in good dispositions as he went in to have his bone marrow extracted for his younger brothers.
Robin Pownall, Michael's mother, gave birth to Santino and Giovanni, on October 14, 2017. The twins were premature at 33 weeks, as reported by Liftable.
Unfortunately, both newborns were diagnosed with a rare condition called Chronic Granulomatous Disease shortly after birth.
That meant that even the slightest illness could kill Santino and Giovanni because they have weak immune systems.
Follow us on Twitter @amomama_usa.
The family's next step is to get on a donor list, and the best donor would be a family member. But neither Robin or her fiancé were matched. Luckily, Micheal was.
At first, his parents were reluctant to use him as a donor since he was just four years old.
Robin explained to Micheal what was going to happen. "We were straight up — 'It's going to be a big needle going into your back, bud,'" Liftable quoted her as saying.
She added: "We asked him, 'Do you want to do this? If you're scared, you don't have to.' Part of me was like, 'Well, he's 4. Maybe he doesn't know what's going on.' But he did, and he was all for it."
"We were in no way, shape or form going to push anything. He was all for it and we had a good feeling about it. It's amazing — he's so proud. Such a brave little guy."
After the procedure, Micheal even insisted that the wounds on his back didn't hurt. His aunt reported on their GoFundMe page that everything went fine.
She wrote: "He is perfectly well, playing and all like nothing happened. Giovanni received the bone marrow cells around 2:30 pm & then Sonny received the bone marrow cells around 5:30 pm."
"Both babies are doing well and sleeping. Now is time for their bodies to heal, with the new bone marrow cells to build up a healthy immune system."
Now, the twins have no trace of the disease, and it's all because of their heroic big brother.
Recently, Robin posted a video on Facebook that shows Micheal and the twins Santino and Giovanni. She captioned the post: "Not all heroes wear capes, but he does. Michael is a real life superhero and I could not be any more proud."
Please fill in your e-mail so we can share with you our top stories!