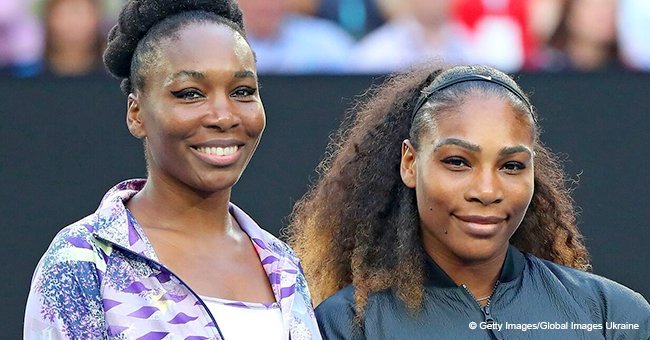 Serena and Venus Williams flaunt toned figures with their 'siblings' on court
The famous tennis sisters have been competing at the oldest tournament in the game, and posed for a photo with a number of their friends while on a court.
Serena and Venus Williams are both tennis stars, and even rivals when they have a racket in hand. But despite their sibling rivalry, they are also incredibly close, and always supportive of one another.
Wimbledon, the oldest tournament in tennis, is currently underway in the United Kingdom, and both sisters are competing after Serena had to sit 2017's installment out at 7 months pregnant.
While there, the sibling duo has taken a short breather to take a photo with their respective hitting partners, and two old friends of theirs.
The 6 are so close, that when Venus posted the photo to her Instagram account, she captioned it "Team williams is all siblings!"
Brothers Jarmere and Jermaine Jenkins are Serena and Venus' hitting partners respectively, while brothers Zane and and Zebe Haupt are friends and assistants to the sisters.
In the image, they all appeared to be standing on one of Wimbledon's courts, with their arms around each other and smiling happily at the camera. With the exception of Zane, they were all dressed in tennis whites.
In September 2017, Serena gave birth to her first child, a daughter she and husband Alexis Ohanian named Alexis Olympia. The couple tied the knot two months later
In May 2018, speaking to Metro UK, Serena confessed that she had always been highly self-conscious of her body growing up with older sister Venus.
"It was hard for me… I was different to Venus: she was thin and tall and beautiful, and I am strong and muscular – and beautiful, but, you know, it was just totally different," she explained of her insecurities.
She previously said she wanted to slim down to a size 4, and while she doesn't regret making the statement, she admitted she came to the realization that her strong body was her advantage on the tennis court, and she wouldn't change that.
The mutiple grand slam winner also opened up about suffering from post-natal depression after her little girl was born, confessing she really struggled with the fact that she wasn't perfect for her baby.
"It's almost like the fourth trimester, it's part of the pregnancy," she told Harper's Bazaar UK. I remember one day I couldn't find Olympia's bottle and I got so upset I started crying…because I wanted to be perfect for her."
Please fill in your e-mail so we can share with you our top stories!