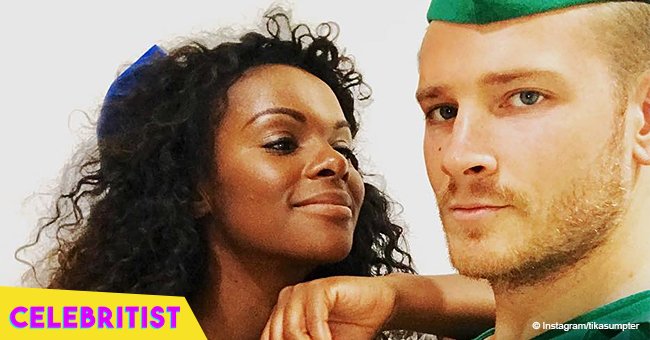 Tika Sumpter's fiancé shares new selfie with their baby daughter by the sea
The actor and model is a father with his fiance, and they have largely protected her identity from the public eye, despite the myriad of photos they post of her to their social media accounts.
Tika Sumpter and Nicholas James first met on the set of The Haves And Have Nots, and secretly started dating, keeping their relationship private to avoid the vitriol they knew they would face for being an interracial couple.
But in 2016 Sumpter fell pregnant, and she knew she would not likely be able to hide James' identity for much longer. She still waited until she was almost 7 months pregnant before sharing her baby news, and still didn't confirm the father.
On father's day in 2017 she first shared that James was her daughter Ella Lore's father.
Since then, the couple have posted plenty of photos together, as well as photos of Ella, without showing her face.
Just recently, James took to Instagram to share a photo of himself and Ella at the beach. In the sweet image, the father-daughter duo are both staring out at the waves crashing to shore.
James seems to be shirtless, wearing a denim cap, while Ella is dressed in a white shirt with red polka dots on it. She has clearly inherited her mother's curly hair.
He had a simple caption for the picturesque image: "My #rideordie."
Another photo, shared by Sumpter, shows Ella driving her own Tesla vehicle, a gift that the little girl had been given by her godfathers.
"When your daughter has a @teslamotors, and her parents don't. Thank you god daddy's @jasonbolden and @adair_curtis -Ella-Loren," the proud momma captioned the shot.
The only image to date that has shown the little girl's face between James and Sumpter is a throwback image from when Ella was just 6 months old that the actress posted on May 13, 2018.
The beautiful photo showed Ella sitting upright on the sofa staring at James as he smiles back at her. The sweet baby girl is wearing a pink onesie with long sleeves and a pink polka dot bib.
Sumpter also used the image to share the incredible and eventually stressful journey she had throughout her pregnancy.
"Hello world. Baby Ella-Loren at 6 months. You're almost 2 now. You changed my life in every way. Carrying you was magical, but delivering you was complicated. I had pre-eclampsia and was told I could seizure or bleed out. I cry thinking about it. You are my miracle. You are my magic. @nickjames138 thank you."
Please fill in your e-mail so we can share with you our top stories!