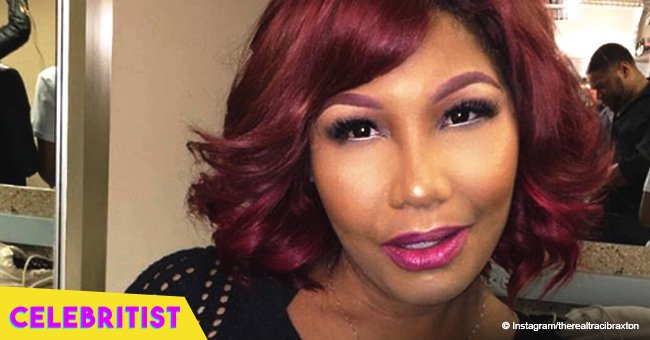 Traci Braxton stuns in black leather strapless dress with short red hairdo in new photo
The singer and television personality recently became a grandmother, but that isn't stopping her from wearing outfits women half her age are too self-conscious to try pull off.
47-year-old Traci Braxton is still creating music, recently releasing a new album, and is even going on her solo tour now after her older sister Toni Braxton booted her and her sister off of her upcoming Sex & Cigarettes tour.
And despite being almost 50 years old, Traci definitely still has it, as can be seen by looking through her Instagram photos.
A recent picture that the singer shared to her social media account shows her looking sultry in a rather unexpected outfit.
She opted for a black leather corset top with no straps, that also hung so low it looked like her chest might pop out of the top of it. It's unclear what she was wearing on her bottom half.
She also had on a diamante bracelet, and a long chain necklace that she playfully held up to her mouth as she stared into the camera. Her short fiery red hair was left loose, and matched by a bright red lipstick.
In three days, the post had raked in almost 17,000 likes.
The singer became a grandmother in April when her son Kevin Surratt Jr welcomed his son with his partner, Oliviah Robinson.
As a result of the little one's birth, Traci has declared herself a Duchess, something she explains is an inside joke among her and her sisters.
"My sisters and I…when we were younger, we said if we ever have kids, and our kids have kids, our names would be duchess. That's royalty, thats what they call the Queens when they have grandkids. So, I'm royalty," she told The Grio.
Traci is one of six children, with older siblings Michael and Toni, and younger sisters Towanda, Trina, and Tamar. Their father, Michael Conrad Braxton, was a Methodist minister, and the children grew up in a spiritual household.
Her first time singing in front of people was in her father's church chorus.
In 1989, the five sisters were signed together by Arista records as a fivesome, and they released their first song, Solo, together. It would be their only track working together.
Toni broke away with her solo career, and over the years her sisters, including Traci, performed as her backup singers on tours.
The sisters have since also reunited for the reality show Braxton Family Values.
Traci and her husband, Kevin Surratt, have been married for more than 2 decades, although there were questions about the future of their relationship after rumors started doing the rounds that he had had an affair and fathered a child.
Please fill in your e-mail so we can share with you our top stories!