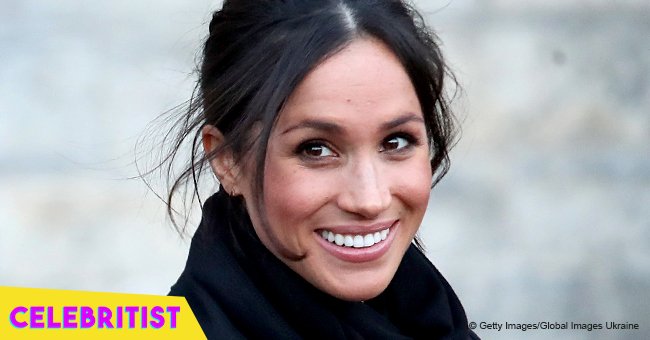 Meghan Markle melts hearts after pics of her and adorable little girl emerge
She became part of the royal family after marrying Prince Harry almost two months ago, and Meghan Markle's fans are already asking when she is going to have their first child. After some pics of the Duchess having a sweet moment with a girl emerged, people are convinced she'll be a great mom.
Meghan Markle has been stealing hearts left and right since the first day she was caught with Prince Harry. The former actress joined the royal family in May, and she's already taking on her royal duties, joining her husband and the Queen for different engagement across the country.
A few days ago, Meghan became Prince Harry's biggest cheerleader as she attended the Audi Polo Cup in Ascot, where Harry and his brother, Prince Williams, put their polo abilities on display to raise funds for the Sentebale, Prince Harry's charity, and The Royal Foundation.
The Duchess of Sussex looked incredible wearing a sleeveless patterned dress, sunglasses and a white hat as she was caught having a sweet moment with a little girl that, according to reports, is Isabella Dyer, the daughter of Mark Dyer, a very close friend of Prince Harry.
Meghan's love for children could easily compete with Harry's. Both have been caught in several occasions enjoying the company of kids, and even though Harry admitted before their marriage that there's no rush for them to have kids, a family is undoubtedly on their plans.
When they were asked in their interview as a couple about children, Harry jumped to say "Not currently, no. Of course, one step at a time and hopefully we'll start a family in the near future," while Meghan laughed and agreed with him.
In May 2016, Harry confessed to People magazine there were times where he wanted to be a father already, and others where he wanted to keep enjoying without the pitter patter of small feet.
"There have been moments through life, especially when we do a tour abroad, when I think, "I'd love to have kids now." And then there are other times when I bury my head in the sand going, "All right, don't need kids!" There's no rush. I think I tell you what: There have been times I've been put off having children."
There's no doubt that Meghan and Harry will be amazing parents, and we can't wait for them to start a new family shortly.
Please fill in your e-mail so we can share with you our top stories!