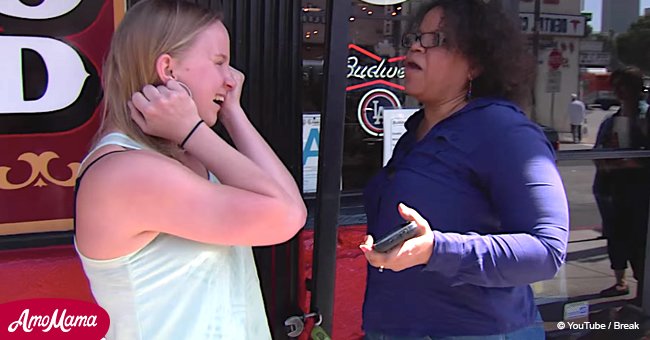 Waitress who dedicates her time to helping others gets amazing gifts from strangers
Chelsea Roff, who works as a waitress, was rewarded with life-changing tips after Break.com planned a prank at her restaurant.
NTD reported that cameras were hidden in Spring Street Smokehouse, a restaurant in Los Angeles, California, to surprise the waitress.
Many around Roff felt that she was long overdue for some good luck after beating an eating disorder, raising her younger sister, and helping other women suffering from the same disorder.
Read more on our Twitter account @amomama_usa.
She was 14 when she was diagnosed with anorexia nervosa, and she weighed 58 pounds. Her mother had to rush her to the hospital as her organs were failing. Doctors told her mother she only had a few days to live, Roff said at TEDxStLouis.
She took up yoga to recover and learn about her body and turned her life around. Besides her job at the restaurant, she ran her own non-profit, Eat Breath Thrive, to help people recover from eating disorders.
Though she had struggled to make ends meet from a young age, she had always remained positive. Her coworkers and friends thought she deserved some good luck and decided to nominate her for a "Prank It Forward" surprise by Break.
On the particular episode, her 'Best Shift Ever,' Roff meets four extremely generous customers. The first collaborator leaves in a hurry before dropping $1,000 as a tip.
The tip leaves her baffled. She insists on splitting it with everyone, though she is told to keep it for herself. "She didn't want to keep the money," the owner of the restaurant said.
Next, she meets a couple who said that they have just enough cash to cover the bill. They claimed to be travel agents and offer her an all-expenses-paid trip for two to Hawaii instead.
The third collaborator is Dr. Susan Krevoy, a clinical psychologist. Roff notices a book on yoga on her table and strikes up a conversation with her. Dr. Krevoy says that she is trying to learn yoga and asks her story.
After listening to her story, the psychologist offers her a job at a non-profit eating-disorder program she has been running for the last 14 years.
Though taken aback by all the good luck that day, she expresses her interest in the program.
Her final tip for the day was a major shock. A woman hands her a car key instead of cash. Roff tries to hand the key back to her, but she leads her outside and reveals her brand-new car.
As they exit the restaurant, she sees a familiar face in the car – Diana Roehl, her first yoga instructor. Roff goes into an emotional frenzy and has tears rolling down her cheeks. The excitement is palpable and the host of the show, Kevin Brueck said she deserved the good fortune.
Please fill in your e-mail so we can share with you our top stories!