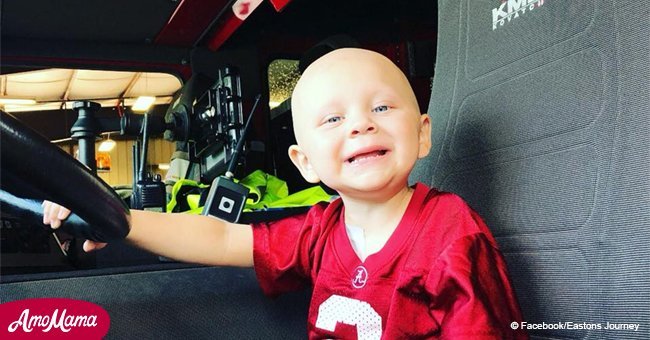 2-year-old boy beats rare form of cancer twice
For the second time, Easton Carraway, 2, beat a rare form of cancer and happily went home in Foley.
Most of his life was spent in the four corners of his hospital room. He had been battling cancer for so long.
The parents were devastated upon hearing the news. Easton was first diagnosed with cancer in March when doctors discovered stage-four tumors in his lungs and pelvis.
Easton fought hard to beat the disease during the first time. After just two weeks of Easton successfully overcoming his first cancer battle, he and his parents received the news that his cancer came back. They were devastated.
To know more about Easton's cancer, follow us on Twitter at AmoMama USA.
Speaking with Fox 10 News, Easton's father, Cody Carraway, said that they went to South Baldwin for routine blood work at the time. When they left, Easton had a seizure and they made him take scans the next day.
He continued, "That's when they told us it was on the brain, and we needed to get back to St. Jude, it was pretty devastating."
The family went back to Memphis for Easton's second battle. He went through two stem transplants, yet another brain surgery, and other several rounds of chemo and radiation therapy.
Everyone at the St. Jude Research Hospital was very optimistic that Easton would survive once again, according to Cody. Fortunately, they were right. Easton defeated the disease for the second time.
Recently, the two-year-old went back home in Foley and got settled in.
Along with championing his battle journey, Easton also welcomed a baby brother. His name is Gunner and he was born while Easton was having his brain surgery to have the tumor removed.
It was a whirlpool of emotions for Easton's parents, but they were just happy that their son is now healthy and is back at home.
Cody told the news outlet having been able to beat cancer twice before his third birthday meant that Easton could get away with pretty much anything he wants.
He shared that his son is his inspiration and role model. Cody said that his son is proof that miracles exist.
Although Easton had been suffering some side effects from his chemo and radiation therapies, his test results came back and he is healthier than ever.
Please fill in your e-mail so we can share with you our top stories!