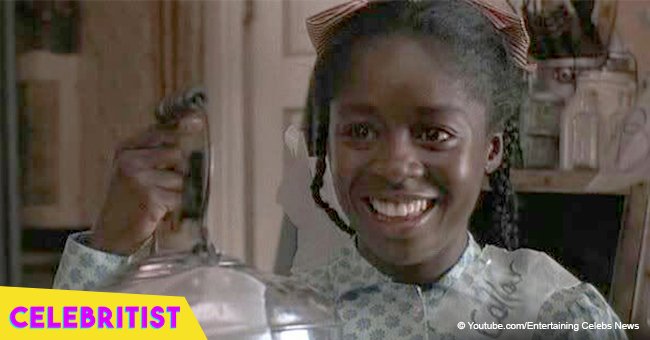 Remember Nettie in 'The Color Purple'? She's a real-life royal & stuns in Ghanaian traditional dress

She touched the hearts of many with her portrayal of Nettie in 1985's Color Purple. Today, Akosua Busia wows in a Ghana-inspired gown revealing clues to an important fact not many are aware of – she's a real-life royal, and one who had an intriguing past with Stevie Wonder.
Akosua Busia established her mark as an actress when she appeared alongside Whoopi Goldberg as the character Nettie in the Steven Spielberg film 'The Color Purple.' And while she went on to become a film director, author, and songwriter, she kept a low profile even though she was actually an African princess.
In a photo she recently posted, the Ghanian actress showcased her heritage wearing an African-inspired orange outfit as she paid tribute to Ghana, which she reveals in her caption as "my #Happy Home."
The 51-year-old was stunning in her long orange, and gold printed dress with a slit on one side as she fashioned a turban of the same cloth and a chunky gold choker. The post was a reminder of the star's interesting roots, one which she never flaunted nor boasted about.
Not known to many, Akosua is the daughter of Kofi Abrefa Busia, who was once the prime minister of Ghana and who also made history as the first African student to attend England's Oxford University. The elder Busia was a member of the Wenchi Royal Family making his daughter a princess. Like her father, Akosua was educated in England. She first studied at the London Central School of Speech and Drama before moving to the University of Oxford.
Since establishing her name as an actress via 'The Color Purple,' Akosua went on to star in the films 'Badge of Assassin' in 1985, 'Native Son' in 1986, 'Rosewood' in 1997 and 'Tears of the Sun' in 2003. She also appeared in the television show ER.
Meanwhile, she was married to movie director John Singleton for barely a year. They shared a daughter, Hadar Busia Singleton who was born in 1997 and is the godchild of Stevie Wonder, who was also rumored to have had a special relationship with the actress.
It was her good friend, actor Ernest Harden Jr. who spilled on her alleged affair with the legendary blind singer. In an interview with Actors Entertainment, the 'The Jeffersons' star revealed the two had a serious relationship back in the day. It shouldn't come as a surprise since the rumored couple would attend red carpet events together though they often exuded a mentor-mentee vibe. In fact, Akosua co-wrote the singer's song 'Moon Blue' for his 'A Time to Love' album.
It's unclear whether Akosua's ex-husband ever knew of her extraordinary relationship with the godfather of his child who's now 21, but proof of their unique bond still resonates today. Just last year, the actress shared a special tribute to her daughter on her birthday by posting a greeting from her godfather. The singer also dropped in on the mother and daughter and spent some time singing and playing the piano with them.
Please fill in your e-mail so we can share with you our top stories!