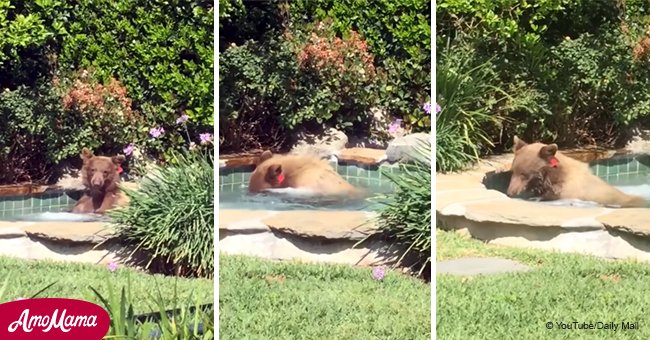 California bear caught taking dip in hot tub and having a margarita
This man was trying to cool off in the hot summer's day when he was suddenly interrupted by an unexpected visitor climbing over his garden fence.
Mark Hough from Altadena in California had just started sipping at his Friday afternoon martini when he suddenly heard twigs snapping and leaves rustling in his backyard, and looked up to see a bear climbing over his fence.
Deciding it would be best to avoid a confrontation with the much larger animal, he opted to retreat back into his house and watch the bear from a safe distance.
For the next few hours, the bear made use of the facilities in the garden, enjoying the cold Jacuzzi with the jets running, and even drinking the remainder of Hough's cocktail that he had left outside when he scrambled into the house.
Hough decided to video the bear trying to cool off in the summer hear in his yard.
The bear didn't even seem hesitant as he climbed into the cool water. While in the Jacuzzi, the animal played with the chlorinator, and tossed his thermometer into the air as he lolled about.
Later, he climbed out of the water and knocked over the margarita still outside, and lapped up the remainder of it.
The bear had a red tag in his ear, so Hough assumed he was used to being around people, especially given his cavalier attitude to climbing into people's yards of his own accord.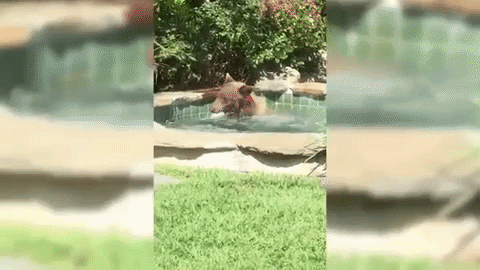 Source: YouTube/Associated press
Just an hour after the bear availed himself of Hough's cocktail, he seemed to have disappeared from the garden. He went over to talk to a neighbor over the fence, when he heard rustling leaves again.
When he looked up, he saw the bear had climbed up into a tree to take a nap.
The bear was eventually hustled away down the street, and Hough decided to make himself another two margaritas to make up for the one he had lost.
Please fill in your e-mail so we can share with you our top stories!