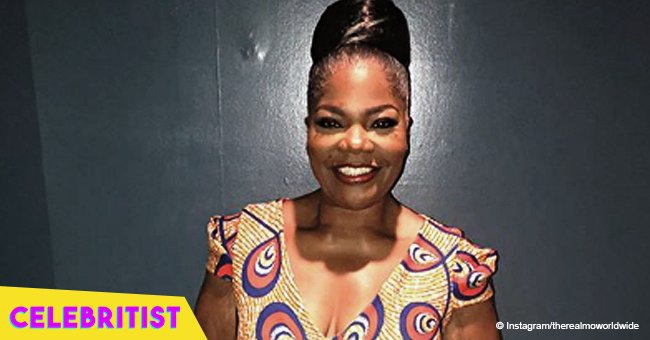 Mo'Nique shares dance video with her son after major weight loss
The comedian and actress has gone on a weight loss journey in recent months, and she has made sure to share every step of it with her loyal followers and fans.
Mo'Nique has always been an advocate for people to love the skin they're in, often using the slogan "bigger is better." But after a conversation with her husband, Sidney Hicks, she had a change of heart about her own appearance.
After Hicks asked her what she weighed, he told her that she was too heavy, and that her weight would end up costing her her life, taking her away from him before he was ready to lose her.
She quickly decided she needed to change her habits, and started eating healthier and exercising regularly with a personal trainer. All the while, she continued to share photo updates of her progress and fitness videos to encourage fans.
Among the videos she shared was one with her son, Jonathan, in which the mother son duo danced the first few seconds of a 20 minute dance routine, just to give people a taste.
"Hey my loves. Sisters dance with your babies, so you can DANCE WITH THEIR BABIES," she captioned the clip. She also shared the link to her YouTube channel.
One of the things that people noticed as soon as they played the video is how slim Mo'Nique looked.
When the music started, a third man - presumably Mo'Nique's personal trainer - came into the line of sight of the camera, and all three of them started dancing, moving their bodies to the rhythm of the music.
While Mo'Nique and the other man followed the rhythm of the song, Jonathan seemed to be lost halfway through it, but decided instead to freestyle the rest of the routine, something that his mother and the trainer started doing not long after.
The actress her trainer started walking out of the sight of the camera shimmying their shoulders and shaking hips while Jonathan placed himself center stage and started showing off his best dance moves.
Mo'Nique wants to share her weight loss journey with her fans, in the hopes that she can inspire others to go on their own journey, as well as helping out with fun and fast ways to exercise.
Mo'Nique is a changed woman thanks to her incredible journey, which saw her lose over 100 pounds to clock in at under 200 pounds for the first time in her adult life.
Due to her transformation, her confidence seems to be at an all time high as she also has been proudly flaunting her grey hair while promoting her YouTube channel.
The singer lives with her husband Sidney Hicks and her twin sons Jonathan and David Hicks.
Please fill in your e-mail so we can share with you our top stories!