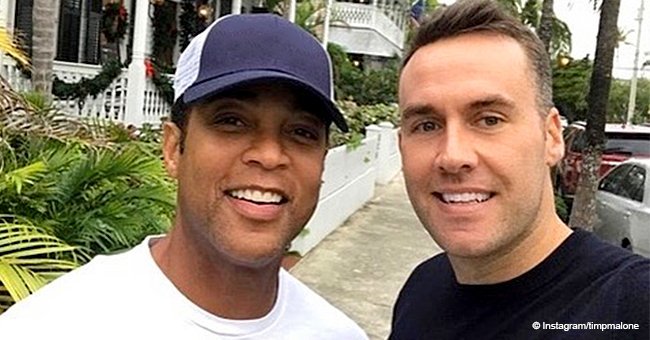 CNN's Don Lemon melts hearts in sweet photo with boyfriend & newly adopted 'little guy'

Don Lemon and his boyfriend are expanding their family. A latest photo reveals the couple have welcomed a little one to their home following their publicized New Year's Eve kiss.
Veteran news anchor Don Lemon has exciting news. He and his boyfriend Tim Malone have just adopted a pooch.
A few days ago, the CNN broadcaster's partner took to his Instagram to share his joy over welcoming a furry friend to their home. The pair sat on the steps outside their front door as their new black pup stood with his tongue out between them.
"Welcome Boomer," Malone wrote, revealing the name they chose for their dog. He added,
"@donlemoncnn and I adopted this little guy. Thank you, @southamptonanimalshelteradopt #BoomerMaLemon #dog #dogsofinstagram#dogs #rescuedog"
The couple who've been together since at least April 2017 according to their social media posts, graced the headlines early this year after sharing a public kiss during CNN's New Year's Eve telecast. The broadcast which Lemon hosted alongside Brooke Baldwin featured the 51-year-old journalist and his lover downing a few shots on-air before ringing in the new year with a kiss.
A year earlier, Lemon was caught on video ranting about his dating struggles during his station's 2016/2017 New Year's Eve broadcast. Malone had been with him at the bar where the filming was taking place at the time. Since then, the couple have been inseparable often gracing each other's social media accounts.
Back in October, Lemon was spotted holding hands with Malone while leaving an SNL after-party. It was the first time the rumored couple were publicly photographed following a star-studded party featuring Beyonce, Jay-Z, Ryan Gosling, Eva Mendes, and Scarlett Johansson, among others.
The pair kept it casual wearing jeans and a sweater. While Malone wore black jeans and a grey sweater, Lemon sported light blue denims with a navy blue sweater. They matched in white sneakers as they walked hand-in-hand leaving Tao Restaurant and Night Club in New York.
Lemon came out with the truth about his sexuality in his 2011 book, 'Transparent,' after which he joined a short roster of openly gay cable news anchors including Thomas Roberts, Rachel Maddow, and Anderson Cooper.
During the time he published his book, he has been in a four-year relationship with a CNN producer.
Speaking about his coming out to the New York Times, he revealed,
"I think it would be great if everybody could be out. But it's such a personal choice.
"People have to do it at their own speed. I respect that. I do have to say that the more people who come out, the better it is for everyone...
"I think if I had seen more people like me who are out and proud, it wouldn't have taken me 45 years to say it, to walk in the truth."
Lemon began his career with CNN in 2006 as a correspondent. He has won several Emmy Awards along with an Edward R. Murrow award for his coverage of the capture of the Washington, D.C. snipers.
Please fill in your e-mail so we can share with you our top stories!