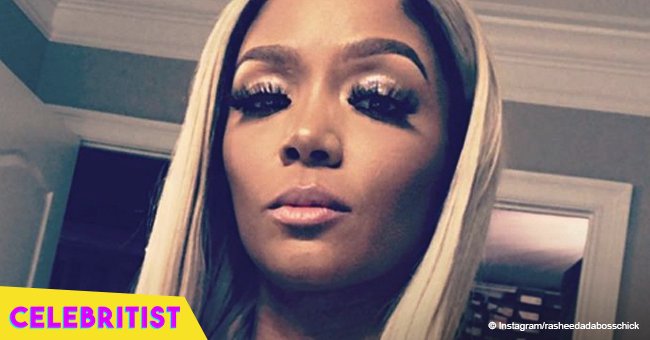 Rasheeda Frost sparks criticism after posing in off-shoulder green romper
The reality TV star stepped out in an edgy green off-shoulder romper that sparked criticism from fans regarding her fashion sense.
The mother-of-two has got fans talking about fashion style, often consisting of bold prints, sexy pants, and gorgeous dresses. This past year, she has also sported a series of hair colors, ranging from fuschia, brown, blue, and neon.
With her clothing brand Pressed going on full speed, Rasheeda is the best advertiser of her own brand. The entrepreneur has been sporting her own creations, just like the green off-shoulder jumper she posted on Instagram.
The "Love & Hip Hop: Atlanta" star chose not to wear a belt with her baggy jumpsuit, but she completed her ensemble with a bright yellow Chanel bag.
While some fans were just not fond of the overall style of the jumper, there were many who absolutely adored it, and were disappointed to see it sold out on her website. Her supportive followers rushed to the comment section to share how much of a "boss" she really is for pulling off such a bold fashion statement, inspiring them to try and do the same.
According to Celebrity Insider, a recent interview with Rasheeda had her respond to how women call her inspirational.
"Many women ask me how I balance all of the things that I do it. And it's really about staying driven and being flexible. There isn't one right path to be successful. But, it comes from personal motivation, drive and being ok with not knowing the answers. You also can't let others discourage you. We live in a time where people are always trying to knock your hustle or take you out of the game by trying to be your competition. Even if you're doing something that someone else is doing, figure out a way to do it your way, a better way. Find your niche and grow from there."
What do you think of her Pressed off-shoulder jumpsuit? Share your comments with us!
Please fill in your e-mail so we can share with you our top stories!