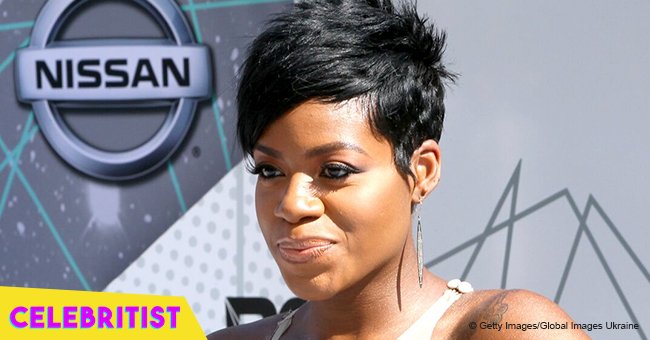 Fantasia Barrino flaunts her curves in skin-tight pantsuit and khaki jacket

34-year-old R&B singer and songwriter Fantasia Barrino took to Instagram to share a photo of herself wearing a tight pantsuit that enhanced her figure.
In the image, the woman was portrayed looking at one side of the room while placing one hand on her hip and the other one close to her face. Fantasia combined her skin-tight black pantsuit with see-through high heels.
Apart from that, the singer chose a long, khaki, camo jacket. As soon as she uploaded that photo, her fans and followers took to the comment section to share their thoughts.
One of them was Instagram user Judith Wright, who pointed out that Fantasia seemed like a real diva who looked good. Other users, including @msatlalien, praised her for wearing those high heels and they labeled them as 'gorgeous.'
Fantasia shared that photo a couple of weeks after she uploaded another one showing her grandson wearing a plaid shirt, aquamarine pants, and matching bowtie.
In the photo, Treyshaun, Fantasia's stepson, was shown in a squat position wearing an aquamarine shirt, brown pants, and matching shoes. The man's girlfriend, Kayla, was portrayed in the same position wearing an aquamarine top, blue jeans, and brown heels.
For the caption, Fantasia revealed that the three people depicted in the image were members of her 'beautiful family.' One of the most exciting aspects of Fantasia is that she became a grandmother at the age of 32.
However, she didn't earn that title from a child of her own. In 2015, the singer married businessman Kendall Taylor, the father of Treyshaun.
Despite the fact that young women don't like to be called 'grandmother,' Fantasia is embracing her role nicknaming herself 'Glam Mom,' previously reported Celebritist.
The singer has welcomed two children so far: sixteen-year-old daughter Zion Quari Barrino, born in 2001 when Fantasia was only 16, and six-year-old son Dallas Xavier Barrino, born in December 2011.
Please fill in your e-mail so we can share with you our top stories!