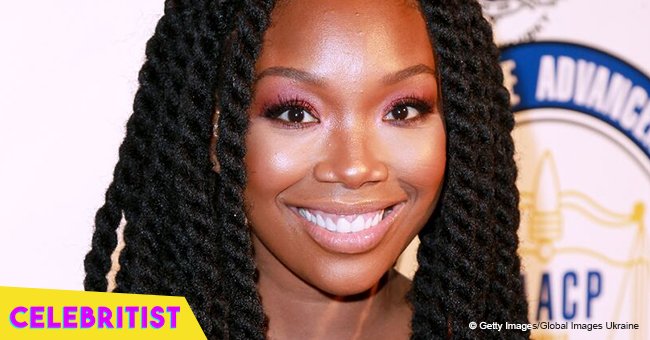 Brandy's only daughter celebrated sweet 16 spending fat check from uncle Ray J & aunt Princess
Brandy Norwood's only daughter recently celebrated her sweet sixteen and went on her first shopping spree at Rodeo Drive. The gorgeous girl received a check from her uncle Ray J, days after he welcomed his daughter into the world.
The Norwood family knows how to celebrate, and since Sy'rai Iman Smith is the only daughter of the R&B singer and former boyfriend Robert 'Big Bert' Smith, her 16th birthday had to beat expectations.
The stunning girl started her birthday celebration on the right foot by going on a shopping spree thanks to her uncle, Ray J and his wife, Princess Love, who sent the girl a check so she could treat herself to some of her favorite brands.
It turns out, Sy'rai is a Gucci girl – as her mother revealed in a photo shared to her Instagram account.
In the pic, Sy'rai is wearing a white t-shirt printed with Gucci's logo, a white coat, a mini denim skirt, and red boots to complete the look.
The girl was captured carrying a big Gucci bag in one hand and a Balenciaga one in the other as she covered her mouth while laughing.
Brandy revealed to her fans that all the bags came out of that generous gift Ray J gave to the girl, but gave Sy'rai a word of warning to not get used to shopping sprees, saying:
"When you get your #sweet16 birthday money from your Uncle @rayj and your Auntie @princesslove...then you wanna go to #RodeoDrive for the first time .... @syraismith don't get used to it 16..."
But that was not the only celebration Sy'rai got.
Days later, Brandy threw a party for her and they posed for some hilarious photos wearing all different kinds of hats, and doing several expressions on camera, proving how fun their mother-daughter relationship is.
Brandy took the time to send her daughter a heartfelt message by writing in her caption:
"If I was 16, she would be my best friend in the whole wide world, and if she was my age, it would be the same! @syraismith I'm so thankful that you're my daughter and I'm your mother!! Your party was the best!!! #goldenswestest16"
Even though Sy'rai was the youngest of the Norwood family, that changed on May 22, when Ray J welcomed his daughter with Princess Love into the world.
The baby girl, Melody, has been stealing hearts on her parents' Instagram accounts with her cute smile and big eyes.
Ray J melted hearts when he shared a cute video of his sister Brandy meeting his baby girl. In the clip, "The Boy Is Mine," the singer is seen doting on her niece, holding and talking to her as the baby looks completely smitten.
This post comes weeks after there was speculation about a rift running in the family when Brandy and her mom didn't attend Ray J and Princess Love's baby shower.
Some people speculated that the women were mad with Princess Love for insinuating, months ago, that Ray J had cheated on her.
However, Sonja Norwood put an end to the rumors by revealing on her Instagram account that Brandy had a concert in Hampton, the same day as the baby shower, and couldn't postpone it.
It is all love in the Norwood family, and we're sure Sy'rai is also excited about having a cute new cousin.
Please fill in your e-mail so we can share with you our top stories!