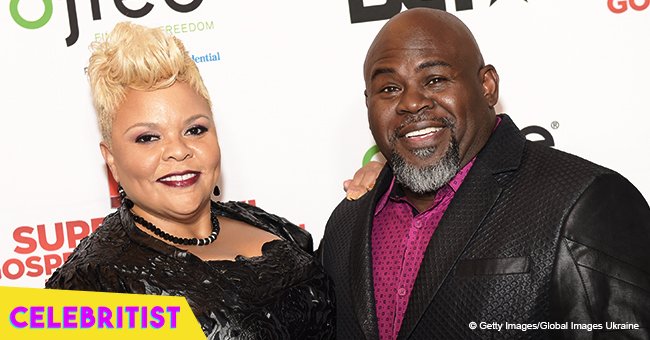 David and Tamela Mann's grown up children look alike in photo from LaPorcia's wedding
The Manns are one of the long-lasting couples in the entertainment industry, and their kids are all grown-ups now. The couple revealed their secret to successful marriage.
David and Tamela Mann will be celebrating 30 years of marriage this year, and they still look as in love as they were back in high school. They have worked together on Tyler Perry's plays and TV shows, and even though they had to play a father-daughter role, they made it work thanks to their professionalism.
The funny couple raised four children together, David's daughters, LaPorcia and Tiffany, from a previous relationship, and their kids David Jr and Tia. They also opened the doors of their home to Tamela's niece, Sonya, who was raised like a daughter.
LaPorcia, the eldest, recently tied the knot with her long-time boyfriend Ace Morrison. The man proposed in front of their entire families and later shared the emotional video to his Twitter account. A few months later, LaPorcia was walking down the altar from her father's arm looking stunning in a semi-sheer dress that enhanced her stunning figure.
After the ceremony, the whole family was ready to party, and the siblings couldn't pass the opportunity to take a photo looking all dolled up together. Since the wedding's theme was red and black, all the women were using black dresses, some sparkling, some long and some short. David Jr. on the other hand, went for a dark blue suit as he posed in the middle of his gorgeous sisters.
The proud parents, David and Tamela, who have a joint Instagram account, recently shared the beautiful portrait and praised their kids saying "Good looking bunch of kids."
David and Tamela are the best examples their kids can follow when it comes to having a happy marriage. They met back in high school and were mutually enchanted with each other from the very first moment. Speaking to Christian Post a few years ago, Tamela revealed that one of the reasons why she married David was their mutual interests:
"I wanted to marry someone that enjoyed and did the same things that I've done. We've built it all together, and that's been a great blessing for us," she said. "I'm still enjoying my life and marriage. And it's not a put on; we just sit around day-to-day enjoying each other's company without all the hoopla."
David also revealed that despite their busy careers, they always put their family above everything, saying:
"We never give anything the same weight that we give our marriage and family because any time you balance something, you give it weight to balance it. Our marriage, our family, our relationship far outweighs anything we'll do in this industry or in this business."
When the couple is faced with disagreement or any challenge that could put their marriage in danger, they rely on their faith, and that's what has worked for them over the last 30 years. They said:
"Because of our love for God, it also gives us love for people to deal with others in other situations. So our faith helps us out a lot. Our faith is what we operate on; it's who we are."
Please fill in your e-mail so we can share with you our top stories!