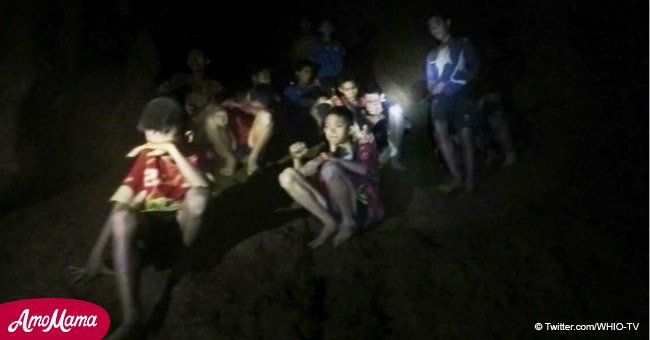 Former Navy diver dies during rescue effort to save teen soccer team trapped in cave
Sergeant Saman Kunan, a Thai ex-SEAL and expert diver, lost his life while trying to deliver oxygen tanks to the soccer team trapped in a cave in Thailand.
The 38-year-old died on Thursday, June 5, 2018, after running out of air while trying to traverse the dark and narrow passages that separate the twelve boys and their coach from freedom.
According to CNN, the group has been stuck in the labyrinthine cave at the Tham Luang Nang Non complex for nearly two weeks and they are almost out of air, which means that rescuers are running against the clock.
Initially, it was believed that the members of the group could be kept alive for four months, which would give the waters enough time to drop so they could walk out safely, but that plan is no longer an option.
Please consider following us on our Twitter account @amomama_usa to learn more.
The air inside the cave dropped to 15%, which, according to an unidentified doctor, poses a serious threat of hypoxia, the same condition that causes altitude sickness.
Aphakorn Yoo-kongkaew, a Thai Navy SEAL chief Rear Admiral who is working on the case, believes that it is too dangerous to leave the soccer team in the cave much longer.
Kunan's death reminded everyone involved in the operation that they are dealing with an extremely perilous scenario. The path to the cave is surrounded by opaque waters and there are several tight passages along the way.
The authorities have considering teaching the trapped group to breathe through full-face oxygen masks, but that idea was ruled out due to the high risk it would represent.
It takes around five hours for experienced divers to swim to where the soccer team is, so it would be nearly impossible for the children to be able to swim out, whether accompanied by a professional diver or not.
TheThai rescue has turned into an international operation, with dozens of Navy SEALS, experts and volunteer divers rushing in from various parts of Europe, Asia and Australia to help bring children and their coach back to safety.
Please fill in your e-mail so we can share with you our top stories!