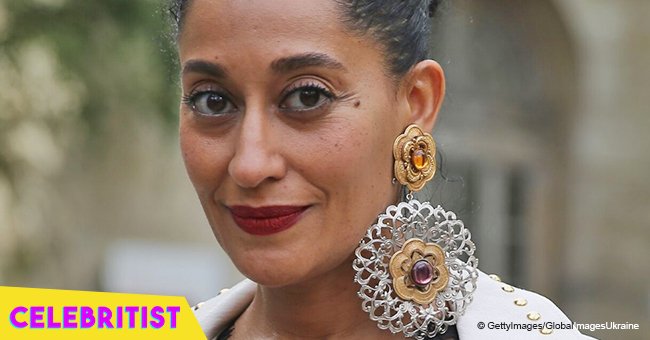 Tracee Ellis Ross steals the show in white gown with deep cleavage at fashion show in Paris
The "Black-Ish" star turned heads when she made a stellar appearance at the Valentino Haute Couture Fall-Winter fashion show as part of the Fashion Week in Paris on Wednesday. This has been Tracee's year, and she continues to stack success after success in her career.
While most Americans have been enjoying the patriotic parties this week, Tracee Ellis Ross has been donning in glamour and dashing looks in between couture fashion shows in Paris. The 45-years-old is one of the few Hollywood stars than rock several high fashion outfits while remaining relatable to her millions of followers.
To the fans' delight, Tracee has been sharing her journey through Instagram with the silly and funny personality that characterizes her.
And while she has been immersed in the worlds of Channel or Dior, surrounded by some of the most important figures in the fashion world, Ross is still able to be in awe with the beautiful creations in the runaway and to fangirl in the red carpets with her favorite celebrities.
On Wednesday, Tracee commanded the room of the Valentino Haute Couture Fall-Winter fashion show, where she took the front row wearing a white gown that while might seem simple, she was able to pull off with confidence and grace.
The ankle-length plunging dress drew attention to her cleavage, and the cinch on her waist matched wonderfully with the waterfall sleeves down the sides. She worked her hair into multiple braids that complimented her bone structure and highlighted her gold earrings, which brought out her flawless complexion.
Styled by Karla Welch, Tracee completed the look with black ankle boots and a glittering clutch bag.
Tracee shared the front row with fellow fashionistas Amber Heard and Olivia Palermo, and designer Christian Louboutin. After the show, Ross got a little emotional by designer Pierpaolo Piccioli's work, saying "It was one of the most breathtaking things I've seen in my lifetime."
The couture collection had model strutting down the runaways in flower helmets made with fresh gerberas, hydrangeas, and orchids, and Tracee couldn't help herself for wanting to try one of the beautiful headpieces, as she revealed on an Instagram post.
In the pic, the actress is seating backstage at a pile of plastic chairs wearing a flower helmet and smirking to the camera. She wrote in the caption:
"FASHION FANTASIES // PIERPAOLO. Thank you @pppiccioli for your immense heart and your magnificent imagination. You are a master. To the team at @maisonvalentino thank you for all your care. (you know I had to try something on. be still my heart)"
Tracee has been riding the train of success this year. She directed her first "Black-Ish" episode, got to interview Michelle Obama at the Women's Summit, hosted the American Music Awards and won an NAACP Image Award o Outstanding Actress in a Comedy Series.
The 2018 Emmy Awards Nominations will be announced on July 12, and Tracee is expected to be in the race for Best Actress in a comedy.
Please fill in your e-mail so we can share with you our top stories!