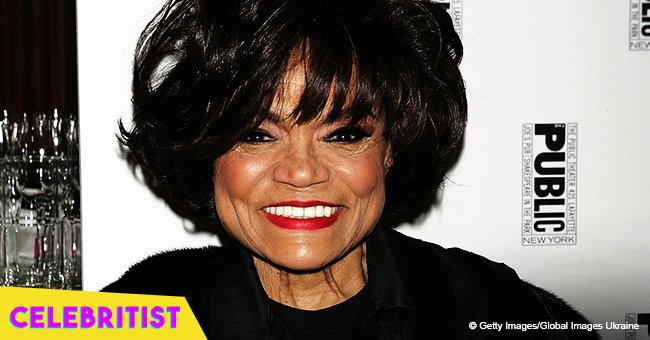 Eartha Kitt's grown-up grandson bears no resemblance to grandmother in photo with mother

Kitt McDonald, the only child of famous singer and actress Eartha Kitt, took to Instagram to share a photo of her son who doesn't look anything like his grandmother.
In the image, the woman appeared wearing a navy sweater covering a white shirt. Apart from that, she had on glasses, a necklace, and her big and beautiful wedding ring.
Jason, Kitt's son, was sitting next to his mother wearing a long-sleeved white shirt, a thin necklace, and a watch. The duo flashed their big smiles at the camera, which made them look good.
The most interesting aspect about the image was that Jason didn't look like his famous grandmother at all. Not only is his skin white, but also his physical features are almost entirely different from Eartha.
As Celebritist previously reported, Kitt has been facing backlash pretty much her entire life because she doesn't look like Eartha, who was black.
Most of Kitt's physical features are very similar to her father, who was also white. Thankfully, Jason has not been attacked on social media as much as Kitt.
One of the principal reasons they look more white than mixed is that Eartha's father was also white.
Unfortunately, the famous singer never knew it as she died without knowing the identity of her father, reported Celebritist.
Kitt didn't let the backlash from people who attacked her for not being black affect her life. She started her own business called Simply Eartha shortly after Eartha passed away.
Her company sells different types of items, including bracelets, mugs, blankets, and shirts.
Besides her business, Kitt runs a blog where she writes articles about her mother and the love they had for each other.
One of the most famous and visited posts she has shared is titled Why Don't You Look More Like Your Mother?
In it, she did her best to set clear why she is so physically different from her mom.
Please fill in your e-mail so we can share with you our top stories!