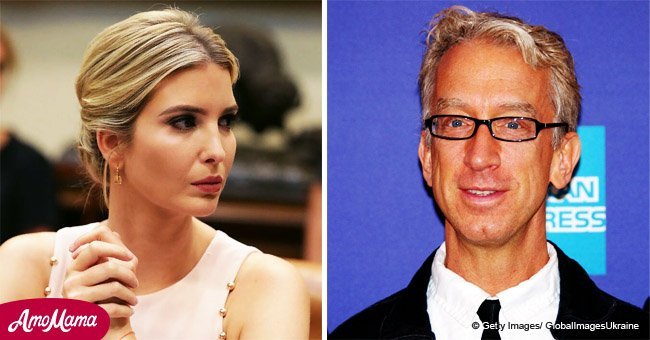 Andy Dick makes headlines for groping Ivanka Trump in resurfaced footage
Andy Dick has always been known for his unpredictability, which has gotten him in trouble quite a few times. Recently, a video of him groping Ivanka Trump's legs has resurfaced.
The incident took place in 2007 when both Dick and Ivanka appeared as guests on Jimmy Kimmel Live! The co-host was surprised by Dick's behavior and tried to draw attention to himself in order to leave the comedian out of the picture.
The video ended up on Youtube and people were able to witness Dick's inappropriate behavior towards the daughter, and current advisor, of the President of the United States.
It all started after Ivanka walked through the curtains to be interviewed by Kimmel. Dick immediately noticed the beautiful blonde's legs and commented on how shiny they were.
Please consider following us on our Twitter account @amomama_usa to learn more.
All of a sudden, he started rubbing his hands on her legs. Ivanka, who is now 36-year-old, tried to play it off as a joke and laughed, but Kimmel noticed that she wasn't amused.
Ivanka was clearly uncomfortable but Dick's inappropriate contact didn't stop until Kimmel got up from his chair and ordered him to stop, telling the comedian 'Andy, please don't that. Donald Trump will kill us both.'
Despite the warning, Dick kept rubbing Ivanka's legs, which prompted Kimmel to drag him off the stage with the help of a couple of security staff members.
With Dick out of sight, Kimmel returned to his chair and apologized to Ivanka, adding that the comedian might have been drunk. The host later admitted to Extra that Dick always made him uncomfortable.
In 2017, the comedian shared a screenshot of the incident on Instagram, claiming that he was only trying to 'see if the glitter would wipe off.' But this wasn't the first time Dick was accused of sexual harassment.
Recently, the comedian was charged with misdemeanor sexual battery and misdemeanor simple battery after groping a woman's buttocks on the streets of L.A, as well as making lewd comments.
According to People, the 52-year-old is now expected to appear before the Van Nuys Courthouse on July 18.
Please fill in your e-mail so we can share with you our top stories!