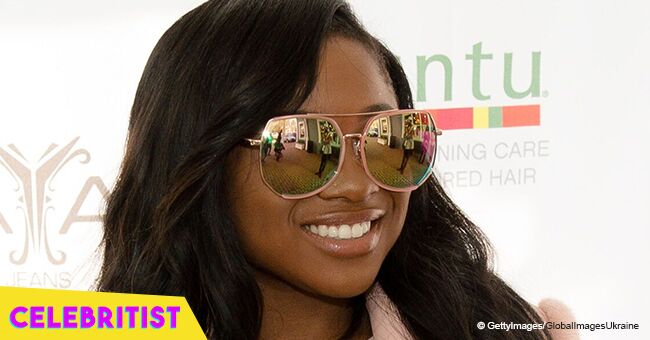 Reginae Carter debuts new hairstyle in recent video from the 4th of July
The reality star shared a special message for her family, friends, and fans on her social media account on the holiday, debuting a new look.
18-year-old Reginae Carter, the daughter of TV personality Toya Wright and Cash Money superstar Lil Wayne, is one of the stars of Growing Up Hip Hop Atlanta and Tiny and Toya.
But when the teenager isn't appearing on camera, she is sharing photos and videos on her social media accounts, or clapping back at hatesrs who feel like they have a say in her relationship with 27-year-old rising rap star YFN Lucci.
On July 4, she decided to share a video in honor of Independence Day, although the short video clip actually had nothing to do with the holiday.
Instead, she performed a seductive little twirl for the rolling camera, showing off a completely new haristyle of long blonde wavy locks. She kept them out of her face with a turqouise head band.
She was also wearing a peach colored dress with a low sweetheart neckline, puffy dropped sleeves, and a slit all the way up her thigh. Carter carried a pink floral purse with a gold chain strap.
She smiled away at the camera, but didn't say anything. The caption wished all her fans a happy 4th of July.
The long blonde locks are a very different look from the teenager, who usually sports a much shorter, dark-haired style.
Carter is currently a student at Clark Atlanta University.
Over the years, she has earned a bit of a reputation for being quick to anger and snap back verbally at people she doesn't agree with.
As a result, her mother didn't want her appearing on Growing Up Hip Hop Atlanta anymore, as she felt that her daughter was being portrayed as a spoiled rich girl, who inserts herself in her parents' arguments.
Wright's concerns aren't completely unfounded, as she recently went on a rant at people who don't think she should be in the relationship she's in.
"Like y'all are wack. Like the people hating, you haters – you are wack!" Carter said. "My momma probably gonna be mad at me. A lot of people are going to be mad at me for doing this but I gonna speak my mind. That's one thing I always do. I speak my mind and y'all are wack. Everybody that's hating… y'all are wack!" she said in the video.
Please fill in your e-mail so we can share with you our top stories!